Siblings-at-law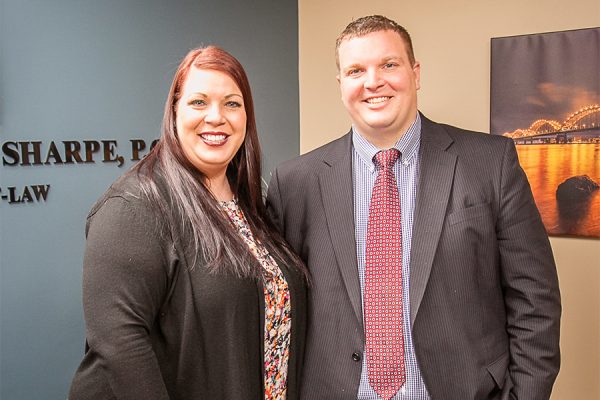 When Becky (Aitken) Sharpe was in fourth grade, she wrote a letter about how she wanted to be like her dad when she grew up. Her dad, John Aitken, helped people adopt babies and worked hard to help kids whose parents were mean to them, she wrote. She talked about how much she loved having newborn babies in their house after they were born, and how she couldn't wait to do the same thing.
"I loved that my dad helped people and got to be a 'good lawyer' and not a mean one," Becky recalls of her fourth-grade insights. "My dad always told me that helping people was more important than making a lot of money. People respected my dad and I hoped people would respect me the way they respected him."
Thirty years later, Becky is carrying on the work of her father. She and her brother, Paul Aitken, share a practice together. The name of the firm gives a nod to their dad's legacy – it's called Aitken, Aitken, & Sharpe, P.C.
"My dad was a genuinely good person," Becky said. "He worked hard for people without taking advantage of them." Paul agreed. "He was an honest man. He respected others."
John Aitken originally wanted to be a doctor, his kids said. But with college studies in history and political science, he went to the University of Iowa College of Law. He and his wife, Mary, settled into life in the Quad Cities, where John practiced law. Becky came along, and she really can't remember a time when she didn't want to be a lawyer. Then came Paul, who decided on the profession once he finished his undergraduate degree. Both graduated from the Cooley Law School at Western Michigan University.
The majority of Paul's work is in family law, such as divorce, child custody, child support, and estates. Becky's work is focused mostly adoption, guardianships, and child welfare.
Sometimes people at the Scott County Courthouse mistakenly refer to Paul as John, he said. And sometimes they encounter people whose lives were touched by their dad.
Recently, for example, Becky was appointed to represent a little girl in a case with the Iowa Department of Human Services. She went to the home of the aunt who was caring for the child after she had been removed from her parents' care.
"I gave her my business card at the beginning of the meeting and after looking at my card, the aunt started crying," Becky said. "I was a little worried by her reaction and I asked if she was OK. She then asked if I was related to a John Aitken. To be honest, I was a little worried to say yes – what if she hated him? I told her he was my dad but that he had passed away a few years ago. Once she stopped crying, she told me the story about becoming a mom at 17 years old." A few years after her daughter was born, she met her husband, Becky said. They went to several attorneys who told her that a step-parent adoption was not possible. Finally, someone recommended she go to see John Aitken.
"They met with him and he told them that he could absolutely help them with the adoption," Becky said. "She said my dad made them feel so comfortable with the process, and not just because he said they had a case, but because of his demeanor and the way he treated them. He made them feel like family as opposed to a client. She never forgot what he did for her and her daughter."
It's one of countless stories Becky and Paul have heard about their dad.
"Since becoming an attorney, I hear even more stories about how kind, genuine and trustworthy my dad was," Becky said. "I hear 'he was such a great guy' all the time. Nothing makes me prouder than hearing those words because they could not be more true. He truly loved helping others and he was remembered for that generosity and kindness.
"Being John Aitken's son and daughter is a lot to live up to, but there is nothing else I would rather be measured against both as an attorney and a parent," Becky said.
WAYS TO GET INVOLVED
The number of children in foster care in Iowa and Illinois is staggering. In Scott County alone, more than 400 kids were in foster care at the end of 2017. In Rock Island County at the end of January 2019, 157 kids were in foster care.
Foster care
Foster care is a temporary home for a child with a caring family. The goal is to safely reunite these children with their birth families. However, in some situations, the courts decide reunification with the birth family will not be possible. A judge can then decide through a series of court hearings to terminate the parents' legal rights to their child. If both parents have rights terminated, then the child is legally available for adoption, and his or her DHS caseworker may look for an adoptive home.
Children in foster care come from all backgrounds. They range in age from birth to age 18. Many have siblings in foster care with them. Most have experienced abuse or neglect.
▶ To learn more in Iowa, visit iowafosterandadoption.org
▶ To learn more in Illinois, visit www2.illinois.gov/dcfs/lovinghomes
Court-appointed special advocate
CASA volunteers are individuals who commit to making a difference for children who might otherwise slip through the cracks in an overburdened foster care system. They are appointed by judges to guide one child or one set of siblings through the system to safe, permanent homes as quickly as possible.
CASA volunteers research case records and speak to each person involved in a child's life, including family members, teachers, doctors, lawyers, and social workers. They monitor the progress of the child and family throughout
the case and advocate for the child's current and future needs in court, in school, and in agency meetings.
Their independent evaluations allow the court to make better informed decisions. CASA volunteers average approximately 10-15 hours per month visiting their assigned child, reading case documents, contacting other case parties and preparing a monthly update. CASA volunteers also complete an additional 12 hours of in-service training each year.
▶ To learn more in Iowa: childadvocacy.iowa.gov/casa-advocate
▶ To learn more in Illinois: www.illinoiscasa.org