Camp Mayfest: Congregational picnic on May 21
Come on out to Camp Mayfest on Sunday, May 21, 12 noon-2 p.m., for an afternoon of food, music, and games. Bring your lawn chair and sunscreen to St. Paul, and wear your favorite camping shirt or hat, for fun in the sun for all ages.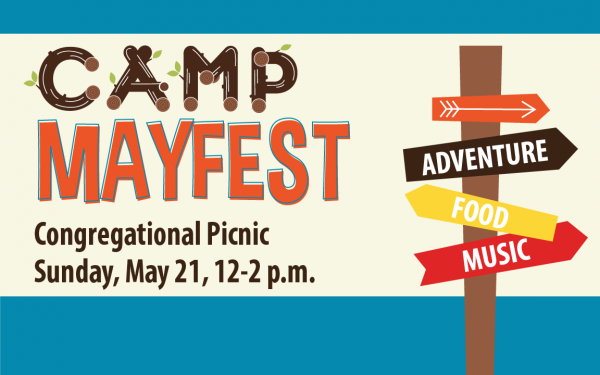 FOOD
Gather 'round the camp fire. Burgers, pork chops, and hot dogs will sizzle on the grill. Bring a dish to share – desserts for last name A-D, side dish or salad for last name E-Z. A freewill donation helps with food costs.
FUN
Camp games are the best games! Games, face painting, and a gaga pit will be just some of the fun. Stop by the photo booth and say cheese for a picture-perfect way to remember the day.
MUSIC
It's time for a sing-a-long! Minus Six will take the main stage with inspired original music, hits from the past and present, and contagious energy.
VOLUNTEER
Be one of cool camp "staff." Help is needed to set up the chairs and tables, scrape and clear plates, staff the food tent, and tear down for the day. Volunteering at Mayfest is a great way to make new friends. Sign up at stpaulqc.org/signups.
Summer Sunday Schedule
Starting May 21, worship is at 8, 9:20 and 11 a.m. Learning for all takes a break, resuming Sept. 10.