Children
Kids are at home here
Kids and parents find a home at St. Paul. Bright spaces are thoughtfully designed with children in mind. Staff and volunteers bring hearts for sharing faith. In so many ways, this congregation seeks to be a loving sign of God's grace for families.
*Note: In-person indoor Sunday school is on hold due to COVID-19.
Children are welcome in worship
"Let the children come," said Jesus. At St. Paul, we believe that children belong in worship. Kids receive special welcomes: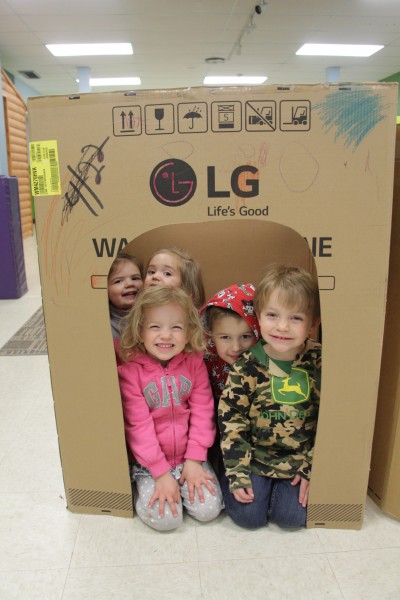 New this year: Outdoor worship for kids and families, Third Saturdays of the month, 4 p.m., North Lawn.
PJ Prayers: Sundays, 7 p.m., starting Oct. 4, join children's ministries leaders online for a prayer service for kids age 3-fifth grade.
Children's messages are included in Sunday worship at 9 and 11:15 a.m. Grown-ups love them too!
Kids' bags are stuffed with soft toys, books, and crayons. Borrow one. They're available at the Sanctuary entrance, whenever you forget "provisions" from home.
Staffed childcare is available all Sunday morning as needed. Pick up a silent pager and relax into worship or an adult class.
When your child needs a break from worship, feel free to step out. The service is broadcast through speakers in the Gathering Area, just outside the Sanctuary doors, and in the Nursing Moms' Room.
Sunday-morning learning
Sunday-morning learning for all ages is offered 10:20-11:05 a.m., September through May. During these 45 minutes, everyone scatters to places for learning. The classroom journey begins at age 3. You'll find your child's classroom in the education wing:
Main level: Age 3 through Pre K
Upper level: Kindergarten through Grade 2
Lower level: Grades 3-5
Faith milestones
Faith milestones are special markers along the growing-up journey. Each milestone is grounded in the Bible and nurtures faith in everyday life. Here parents and kids discover God's presence in seemingly ordinary happenings. A milestone is a memorable and fun way to say, "This is an important time. God is here." Watch for these milestones for children each year:
One-year-olds: Forming faith
Three-year-olds: Welcome to Learning Milestone
Kindergarten: Discovering Worship Milestone
First grade: 10 Commandments Milestone
Second grade: Lord's Prayer Milestone
Third grade: God's Word Milestone
Fourth grade: Holy Communion Milestone
Children: Pastor Sara Olson-Smith