Camp Shalom looks forward to summer 2019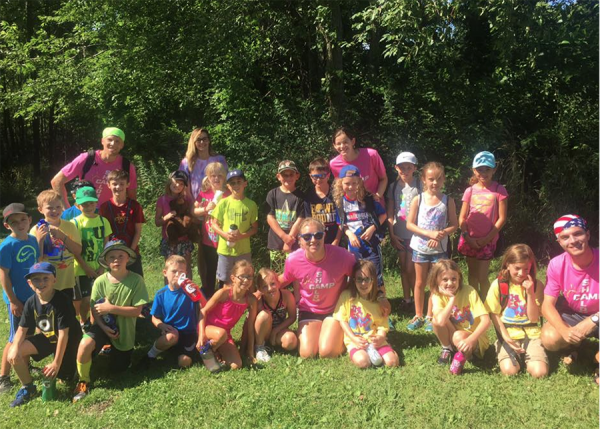 With excitement for a couple of new programs, and gratefulness for a camp filled with kids last summer, the staff of Camp Shalom is looking forward to a fun and faith-filled adventure for summer 2019. Registration is now open.
Tom Bley, executive director, said that parents and campers will see two changes to camp initiatives this year.
First, sixth-graders will have their very own experience at camp. Previously, they had been in with fourth- and fifth-graders. After conversations with staff, they decided that creating a specially designed program just for kids in sixth-grade would be a good, and super fun, way to go. Campers still stay in the village cabins and participate in all their favorite activities, but they also get to have their own special adventure, including an abbreviated session on the high ropes course. Villagers – 6th Grade will give campers a taste of what they can look forward to as Outpost campers in junior high.
Also new is something called Nomads, a week-long program for campers entering grades 9-12. They will sleep in tents, which they will pitch in a variety of locations around Camp Shalom. Nomads cook their own breakfast and dinner, joining the Outpost for lunch and evening worship. Nomads still participate in some of their favorite camp activities, including high ropes, but they will also travel offsite for a lazy river day, where they will rent tubes and float down the Maquoketa River. Nomads have greater freedom and responsibility than younger campers; they will operate on their own schedule, spend time in the woods, and learn how to camp the classic way!
Again this year, camp will hold a week just for adults with disabilities, Tom said.
What is Tom also looking forward to? With successful fundraising over the past two years, two two cabins that often house the youngest campers will be renovated. He can hardly wait to see the summer staff, he added, noting that applications are welcome to be on the summer crew.
Last summer, Camp Shalom was at 95 percent capacity, he said. About 120 kids a week come to camp during the summer.
"It's our commitment to be the very best at what we do," he said. "All of our energy goes into that."
The history of Camp Shalom and St. Paul runs deep.
St. Paul purchased land for a camp in 1976. Originally called the St. Paul Outdoor Ministry Center, it primarily served youth of the congregation. A master plan was formed to provide a vision of the future. Volunteers labored to turn the rough farmland into a working campsite. They constructed cabins, cleared trails, cooked meals and created a summer program.
In 1982, St. Paul Lutheran raised money to build the Program Center. This building continues to be the hub of camp life. Around this time, St. Paul held a contest to rename the camp. A young camper won the contest with the name "Shalom." Shalom is a Hebrew word meaning "Peace." Commonly used as a greeting, it can also mean the kind of peace only God can give.
By 1995 many of the buildings from the master plan were in place. In 1996, Camp Shalom incorporated as an independent ecumenical ministry.
Today, hundreds of youth and families from more than 100 different congregations in the region support Camp Shalom. Every child is welcome at Camp Shalom without regards to race, gender, creed or national origin.
To learn more about Camp Shalom, visit www.campshalomia.org.