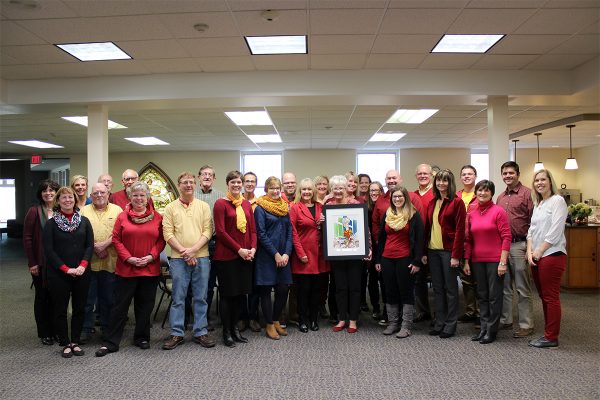 It's when kids like Carver run into her arms and call her Onana. Or when Teddy smiles a big smile and backs up into her lap in the St. Paul Preschool office. Those are the moments that Joanna Roland cherishes the most.
Joanna – known as Onana, JoJo, Joenana, and lots of other pretty adorable versions of her name – will be retiring at the end of this month. She's led the St. Paul Preschool for nearly two decades. She's also played a key role in St. Paul's children and family ministries, as well as congregational hospitality.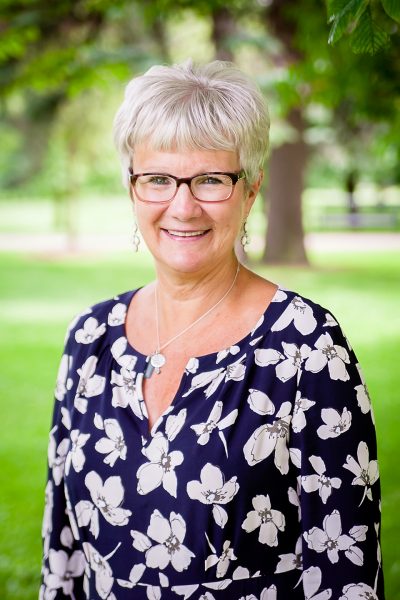 "I'm so grateful for this place," she said in her office on the sunny west wing of St. Paul. "I love these kids. The joy and excitement in their little faces warms my heart." Three words come to mind when she thinks of her time on staff: Gratitude, joy, and love.
Joanna began her work 18 years ago at the preschool. Thirty-nine kids attended then, many of them at no cost. Most of the teachers were volunteers, and St. Paul staff would take the church van
and pick kids up for class. She and the preschool board set out on a journey to grow the preschool slowly and carefully.
Today, St. Paul Preschool has about 100 students who attend various days in six classrooms. One of the most recent significant changes is the school's participation in the statewide initiative to ensure as many four-year-olds as possible have access to high-quality preschool.
St. Paul Preschool is devoted to integrating the love of God into a developmentally appropriate setting for young kids. The program shines with weekly chapel services, art, music, language, science, and math. Special events wrap in family, friends, and honored guests. Through a longstanding commitment to community outreach, the preschool offers scholarships for at-risk children and families in need.
Joanna calls the school a joyful village.
As she steps away from her role at St. Paul, Joanna will be moving into her new role as grandmother. Her daughter and son-in-law, Beth and Jered Popowski, are new parents to Lydia Jane. Joanna and her husband, George, will care for Lydia while mom and dad are at work. She couldn't be happier to be with Lydia. Joanna is a bit sad about leaving the preschool. However, she
finds great comfort in Hebrews 13:8: Jesus Christ is the same yesterday and today and forever.
"My heart is overflowing with gratitude," she said. "I've grown spiritually, personally, and professionally. It's been a joy to work with so many wonderful people. I start every day by thanking God for this place."
Farewell weekend
If you'd like to donate to a retirement gift for Joanna, please write a check to St. Paul clearly marked for "Joanna Gift." You're also invited to send individual cards or notes to the church, or drop a written expression in the basket on her farewell weekend, December 2-3.
New preschool director, assistant director named
Two long-time St. Paul preschool staff members have been named as director and assistant director.
Karen Strusz will be the preschool director. She taught for 10 years at St. Paul and is in her third year as assistant preschool director. She oversees the statewide voluntary preschool classrooms as part of her work. Karen earned a degree in health care administration from Winona State University. She completed her onsite supervisor credential for the Iowa Department of Human Services.
Karen has previous experience as a community educator, assistant administrator of a medical practice, and as an instructor in the child care program at Scott Community College. She also worked at the Child Abuse Council. Karen enjoys working with children and watching them learn about themselves and the world around them.
Karen is married to Brian. They have two children – Madison and Megan are both former preschool students at St. Paul.
Kathy Becker will be the assistant director. She has been a part of St. Paul Preschool for 18 years as a teacher and resource guide. She attended Kirkwood Community College and the University of Missouri. She has an associate's degree in Early Childhood Education from Scott Community College. Kathy has volunteered extensively in the Davenport Community School District and as a mediator for the Scott County small claims court.
She and her husband Rod live in Davenport. Their son, Zach, resides in New York City. They lovingly remember their daughter Mariah, who died of cancer in November 2002.