2
Pastor Kristine: Grateful and thankful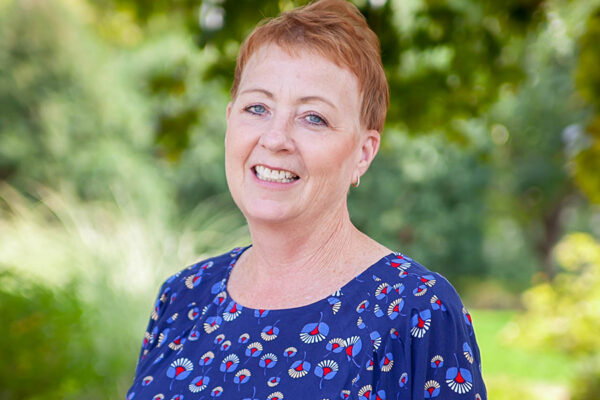 With the changing of the seasons, I imagine many of us have similar routines where we prepare our houses, yards, and wardrobe for the colder weather. I don't have a lot of household decorations for the fall but I do enjoy putting out a few pumpkins, mums, and miscellaneous items. One of those items is a little sign given to me as a gift when I was going through a challenging time. It's nothing fancy, just a square wooden plaque with the words, "grateful, thankful, blessed." I have to say that it looks pretty cute sitting on our fireplace mantle, holding up the arm of my stuffed scarecrow.
With the coronavirus still in our midst, it's hard for some people to feel grateful, thankful, or blessed. Families are juggling the demands of working from home with online or hybrid school schedules, or limited childcare arrangements. Single people are feeling intense loneliness from canceled social activities and missed lunch dates with their friends group. Couples are feeling the extra stress on their relationship given the sudden and enduring change in their normal routines.
I read somewhere that because of COVID, far more people are aware of mortality—their own subjection to death and death on a larger scale. With November being the month of Thanksgiving, how do we feel thankful when there seems to be so many challenges, heartache, and death in our midst?
Last month, St. Paul hosted a very small gathering for the Women of the Evangelical Lutheran Church in America (WELCA). It was their annual fall gathering with other area churches. One of the activities was participating in a churchwide WELCA initiative called "Dear Friend in Christ." Women were asked to write letters to encourage someone else in their faith and those letters would then be exchanged. This reminds me of the Epistles, the collection of letters we have in the Bible that were written to encourage various faith communities in the early church. They are an encouragement to us still today.
We have a variety of letters, written at different times, by different people, addressing various challenges. What I find encouraging as I glance through the Epistles, is the way the reader is addressed…grace and peace to you, I remember you in my prayers, I give thanks to God for you, praying with joy for your sharing in the gospel. The other thing I notice is a reminder of the shared faith in Jesus Christ. The writer proclaims to the reader, the amazing gift we have received through the life, death, and resurrection of God's son, Jesus.  This shared faith, which is grounded in God's love, mercy, and grace is what gives the writers the ability to encourage others. I believe this is how we can be grateful, thankful, and blessed while we still deal with the challenges of life. God calls us individually into community.
As the Body of Christ, we live out our life of faith encouraging and supporting others. Being centered in Christ, crucified and risen, changes our hearts and lets us experience a life of thanksgiving. How do you show your gratitude for the grace you have received through Christ?
Many of you are active participants in St. Paul's food, housing, mental health, and neighborhood school outreach ministries. Many of you live out your life of faith in a variety of other ways, in your daily lives doing things that support and impact other people's lives considerably. I am reminded of my friend who has three boys, now all grown with families of their own. The family of five would spend every Thanksgiving Day preparing and serving a free community meal for others. Later that evening, after they had shown their gratitude of God's grace through service, they would join together at their own table for a thanksgiving feast.
"I pray that out of his glorious riches he may strengthen you with power through his Spirit in your inner being, so that Christ may dwell in your hearts through faith. And I pray that you, being rooted and established in love, may have power, together with all the Lord's holy people, to grasp how wide and long and high and deep is the love of Christ." — Ephesians 3:16-18
-Kristine Dohrmann, visitation pastor