1
Nourishing community: Amy Sivertsen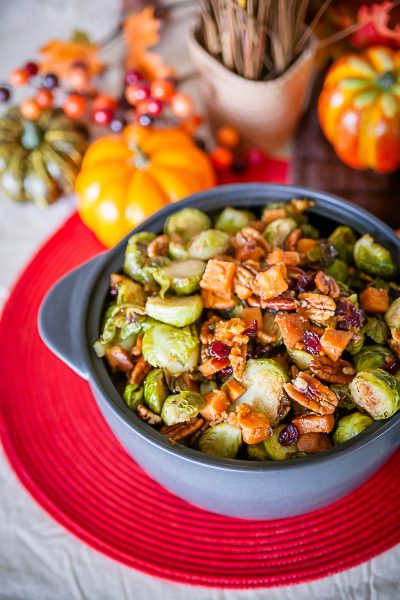 Take a moment and think of a favorite dish from holiday dinners of the past. What did it taste like? What was it served in? Who made it? Who was gathered around the table. So many times, food serves as the foundation of some of the most important memories of our lives. This Thanksgiving, St. Paul people shared their favorite recipes – and the stories behind them.
Roasted Brussels sprouts, cinnamon sweet potatoes, pecans, and dried cranberries
Submitted by Amy Sivertsen
Ingredients:
Brussels sprouts (combine following)
3 cups brussels sprouts sliced in half
3 Tbsp olive oil
¼ tsp salt
Sweet potatoes (combine following)
1 ½ pounds sweet potatoes, cut into 1-inch cubes
2 Tbsp olive oil
3 Tbsp maple syrup
½ tsp ground cinnamon
Other ingredients
2 cups pecan halves
1 cup dried cranberries
2-4 Tbsp maple syrup (optional)
Directions:
Roast Brussels sprouts combination on baking sheet at 400°F, 20-25 minutes. Roast sweet potatoes combination on baking sheet at 400°F for 20-25 minutes (turn halfway). In a large bowl toss roasted sprouts, sweet potato, and other ingredients (slowly add maple syrup).
Sivertsen Directions:
Combine everything all at once and cook over open fire for 45 minutes.
The story behind the recipe:
Andrew's brother isn't able to come home much for the holidays, so we headed down to the Florida Gulf Coast to have Thanksgiving on the beach. We had just committed to a vegan lifestyle, and faced two challenges: traditional turkey dinner was out, and we didn't have an oven. Our cookware was a never used, pre-seasoned, cast-iron dutch oven, heated in a sand pit and a fire over logs. While waiting for the food to cook, we chased the waves, made sand castles, and caught up. Aside from the dish almost completely charred, and the thin layer of sand on our food, we couldn't ask for a better meal. We laughed and ate with a view of the sunset, and topped the night off with the non-traditional Thanksgiving dessert: S'mores (with vegan chocolate, of course!).