1
Responding to Puerto Rico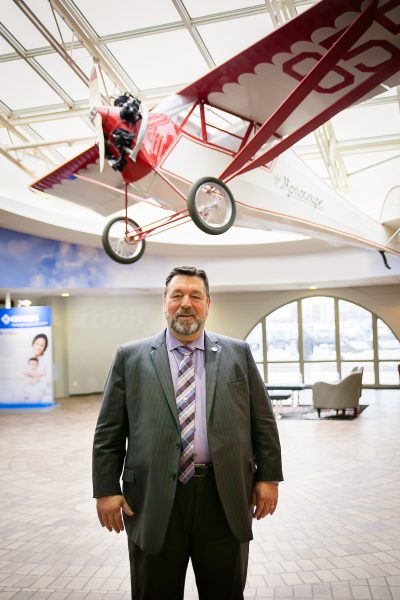 John Hursey put on a pair of blue gloves and hopped onto the line at the security checkpoint of the Quad City International Airport. He checked through items placed into a bin making its way through the clearance process. He then took the items to the end of the line for the traveler to retrieve.
The area is a hub of constant movement – airport security officers checking documents, baggage, and people, with conveyor belts and metal detectors moving along and lighting up. About 1,200 passengers a day pass through the Quad City airport, checked by officers of the Transportation Security Administration, or TSA.
John is the federal security director for downstate Illinois for the TSA. What does that mean? He manages the security of 10 airports, from Rockford to Moline to Marion, or as he puts it, "all of the airports not in Chicago." He is one of 77 such directors in the country, with a TSA career that started when the agency began, in the summer of 2002 as a response to the attacks of Sept. 11, 2001.
He has traveled all over the world, first with the military, then with TSA. One portion of his work is to respond when a natural disaster hits an airport.
On the afternoon of Saturday, Sept. 23, John was shopping with his wife, Erica, when he got a call. The next morning, he was on a plane headed to San Juan, Puerto Rico – two days after Hurricane Maria made landfall.
All kinds of challenges awaited. He remained there for more than a month. "The airport had turned into a giant refugee center," he said. "It's hard to describe it. There was as much chaos as you can imagine."
Initially, the government placed a limit of 10 on how many large flights could come in and out, or about 2,000 people a day. "About six, seven, or eight thousand were showing up every day. The hotels were all booked up, most weren't able to operate. The ones that were operating were open for disaster workers. No air conditioning. No running water. The average citizen that showed up, they were stuck.
"We had no power, other than some very basic facilities in the airport on a generator that worked sometimes. No vendors. No one selling anything. No food. Horrible humidity. We only had one terminal of three open and
one small checkpoint open to screen. Crowds and crowds of people in line. Airline computers weren't working. They had to make phone calls to Miami, if they could, to confirm flights."
One vital piece of getting the airport up and running as much as possible, was to assess the needs of the local office of the TSA, for leadership, administrative staff, and screening officers. The agency brought in teams from other airports to work the checkpoints.
"On Monday evening, of a 400-person workforce, we had more than 200 employees unaccounted for. We knew that they were OK, but we had no idea what their situation was. We sent out welfare teams. We divided up the island on Tuesday morning and went town to town, door to door, to figure out their status and what they needed, with water and MREs (meals ready to eat, a type of packaged meal). It took us about a week before we had full accountability of everyone."
They worked to get employees into shelters, or evacuated the employees experiencing the worst conditions. They sent them to other locations in the U.S. with airports so they could work while determining their future. They secured generators and medicine, fuel and food.
John didn't take a day off during the time he was there. He woke up at 4 a.m. and worked until 8 p.m., often with phone calls in the middle of the night.
When 9/11 happened, John was in the Air Force, a 27-year career. He heard of the federal security director positions with the newly formed TSA, and decided to apply. He got the position, and retired from the military.
The most rewarding part of the job? "The dedication of our officers," he said. "I really get my energy from the people who are doing the job. Being a TSA officer is often a thankless job. But they press on. Our people see the bigger picture."