1
Sacred Space in an Unlikely Place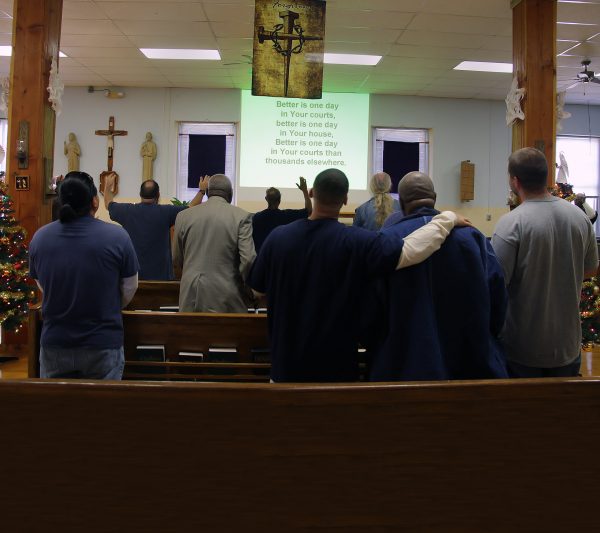 Editor's note: Christine Vincent first visited the Anamosa State Penitentiary to worship a year ago. She recently completed her youth ministry internship at St. Paul, and will attend Lutheran Theological Southern Seminary this fall.
How did this project come about?
Academia would call it a fluke, some clergy might call it a "God thing" but either way, the beginnings of this project came about unexpectedly. During the fall of 2018, a young man, who had previously been a member of my youth group, was incarcerated for murder. My community was struggling with how to support him. I felt inclined to begin corresponding with him via letters, throughout the duration of his trial and the beginning of his new life in prison.
During the spring of 2018, St. Paul began a relationship with the Free Indeed Congregation of Anamosa State Penitentiary. I went with a minivan full of other church goers to visit the penitentiary, and through that experience, this project began. I became increasingly fascinated with prison ministry, began regularly attending worship in the penitentiary, and started this research.
How does Free Indeed work?
Free Indeed meets for worship twice a month on Saturday mornings, alternating with a biweekly Bible study. Each Saturday, this devout group of inmates invites outside congregations to be in community with them. Every Saturday, up to 10 adults from the outside world enter the prison, to worship and discuss scripture within the prison walls.
Visiting congregants arrive around 9:15 a.m. and convene in a visitors' waiting area. We converse with one another like any typical Lutheran congregants in a narthex, asking about updates in each other's lives. Most are middle-aged white women, with a few husbands in tow; we talk about work and casseroles, the Hawkeye football game that starts at noon. Pastor Jerry meets the group in the waiting area, carrying a stack of church bulletins and a massive set of keys. He warmly greets the group, before patiently waiting as we walk through metal detectors and security patdowns.
Phones and smart watches must be left outside prison walls, so that Anamosa has permanent control over what information enters and leaves the prison, should there be any moment of crisis. We show ID and wait as a guard talks to us through Plexiglas. TV screens behind him show cameras at all ends of the property, rotating through views of their massive facility. He pushes a lever to open a huge sliding iron gate. We step inside a cell, with iron gates in front and behind of us. He closes the first gate behind us, waiting for it to securely close before opening the second gate, allowing us to enter the confines of the prison.
Who are the congregants who come from the inside?
Michael is always one of the first to arrive, a white inmate who appears to be late 50s. Men age much more quickly in prison so it's often hard to guess age, but he is definitely one of the mature elders of the group. He has a long white ponytail that comes to the middle of his shoulder blades and thick black glasses. He mingles quickly before taking his seat next to the projector and starting to set up. He is responsible for running the PowerPoint with lyrics during the worship.
Darryl smiles big when talking to me, and we routinely talk about how big his grin is. "God makes me happy," he says, "Church is what makes me smile." Darryl has a life sentence, and three teenage daughters on the outside world. He's a black man who seems to be in his 30s, always wearing his jean jacket to church. Darryl and I talk about my "Key Moments in Church History" course, discussing my paper that I'm writing about gender in the book of Esther. Darryl would love to go to seminary and is fascinated by my religion major.
Will, a young smooth-talker, always shakes the hands of all the visiting congregants. It's as though he's trying to impress them with his charm.
Treyvon speed-walks into the room (even though he knows he's late, he doesn't dare to run). The room erupts with "There he is!" and "You're late, man! We've been waiting!" and "Take your time, it's not like Jesus is important or anything." Treyvon saunters to the microphone. "Y'all pipe down, I know you missed me," he jokes as he's cracking up with laughter. "I have been waiting on this all week," he says, "all week."
What conclusions did you draw?
I had, to an extent, been internally romanticizing the programming of Free Indeed. But after spending extensive time in this community, I eventually gained the trust of several inmates, to the point that they answered my interview questions quite candidly.
Will told me that he enjoys what Jerry is trying to do. He enjoys the concept of having a congregation with people from both the "inside world" and the "outside world." However, he doesn't like that too much of the service feels Lutheran because Will is very clearly not Lutheran. The order of things, the liturgy, is all from a faith tradition that Will doesn't claim. He wishes there was more versatility in the styles of worship, that Jerry would "cycle through groups that are already existing (in Anamosa) and incorporate them. (Jerry) peppers a lot of Lutheran into this, and it frustrates the guys who study the Bible."
There are many prisoners who hold theological views that are strikingly different than those of the ELCA. Many of these men condemn homosexuality, talk about the wrath of hell, and I find myself biting my tongue in these theological conversations.
What role does ministry play here? Should a pastor (or visiting congregation member) argue about theology in a space where we are simply the guest? I'm still unsure. Free Indeed's ministry is not perfect, but no church congregation ever is. Its programming cannot be carbon copied and replicated in the communities of other penitentiaries. However, that need not dissuade conversation about how to improve current work or start new programming. While I firmly believe that ministry must be approached with the mindset of worship with as opposed to minister to, I also acknowledge that this cannot be romanticized in a penitentiary setting.