Thanksgiving for 31
Seven years ago, when the Stewarts first moved to the Quad Cities, they sat down together as a family of four for Thanksgiving. It was a nice holiday.
But Eric, Rikka, Aron, and Jordan decided they wouldn't do that again.
Every year that they don't travel, they invite people who don't have family nearby to come and share the afternoon and a meal together. This year was a banner year – 31 people came to eat. So how much turkey does something like this require? Two 19-pound ones, Rikka said.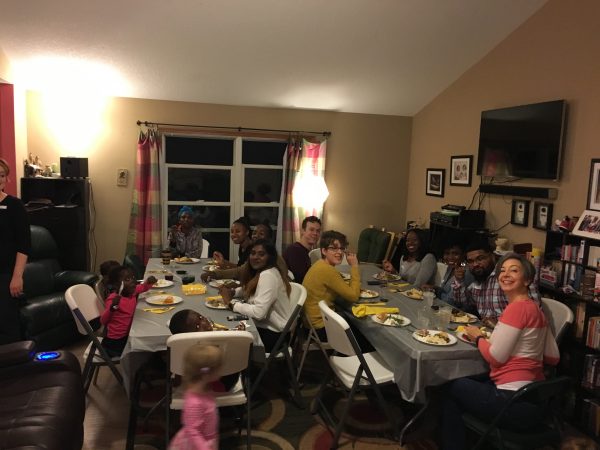 "We make the basics – the turkey, stuffing, green beans, potatoes," Rikka said. "People bring a side dish or dessert to share."
This year, the house was filled with people from the United States, Mexico, Trinidad and Tobago, Sri Lanka, and Uganda. Pastors, teachers, international students, refugees. They sat around tables set up in nearly every available space in the house – the living room, dining room, the finished basement.
Lots of really fun connections happen each year, Rikka said. The most harrowing tale was one year when the oven started on fire – it was quickly doused and a quick trip to borrow a neighbor's oven saved the day.
Growing up, holidays for Rikka meant lots of people gathered together. The Stewarts are now continuing that tradition.
"Thanksgiving has always been a big holiday for me," she said. "It feels like Thanksgiving if there's a lot of people, sharing a meal."