VBS 2016: Surf Shack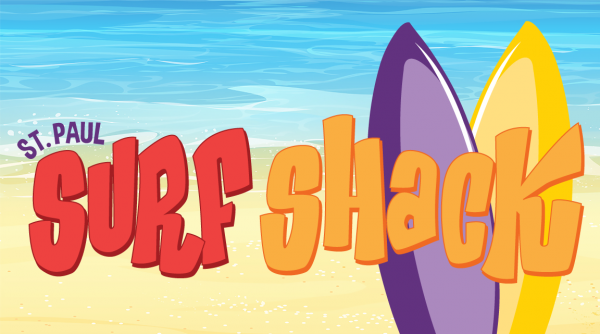 Surf's up! St. Paul surfers and lifeguards will shine bright and be a ray of light for others, at Vacation Bible School 2016.
VBS, with the theme of Surf Shack: Catch the wave of God's amazing love, will be Monday, June 13-Friday, June 17. St. Paul will transform into an ocean of excitement as kids and volunteers glide through surfer-themed music, crafts, science projects, recreation, Bible stories, and more. Watch as they get stoked about God's mission in their lives.
The theme verse is "Remember that the Lord is great and awesome (Nehemiah 4:14b)." Daily themes are:
God creates: Genesis 1 – Creation
God helps: Exodus 2:1-10 – Miriam cares for Moses
God loves: Matthew 3:13-17 – Baptism of Jesus
God calms: Luke 8:22-25 – Jesus calms the storm
God sends: John 21:1-17 – Breakfast on the beach
Vacation Bible School
Kids age four (by Sept. 15) through entering fifth-grade, from 8:30 a.m.-noon. Registration is closed.
---
678 Experience
Middle-schoolers, entering grades 6-8, will spend the morning (8:30 a.m.-noon) having a blast and learning about God. Registration is closed.
Summer Stretch
High school students, entering grades 9-12, volunteer in the morning with VBS and 678, then spend the afternoon playing water games, making T-shirts, and studying the Bible. Registration closed.
Volunteer
A strong corps of service-minded and joy-filled adults make it all happen. Interested in helping? There's a place for you at stpaulqc.org/signups.
Questions? Contact Michelle Juehring, michelle@stpaulqc.org,
563-326-3547 ext. 227