1
Walk, play, swim, explore – Get outside in June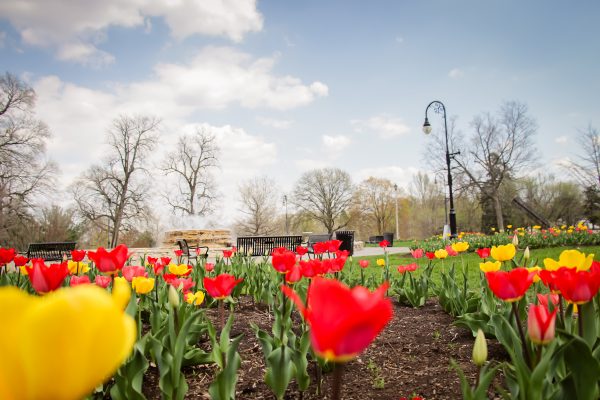 The people of St. Paul have lots of opportunities to get outside with others in the month of June. Here the upcoming opportunities.
Pickleball Party: Come for an afternoon of fun and pickleball. St. Paul people and friends are invited to Northwest Park, 3400 N. Division St., Davenport, 2-4 p.m. Saturday, June 1. Some paddles and balls will be available for use, or bring your own. The afternoon is free, but please sign up at stpaulqc.org/signups. Contact: Josh Kestner, josh@stpaulqc.org.
Walks at Vander Veer: Take a walk around or through Vander Veer Park on Friday mornings this summer, 10-11 a.m., starting June 7. Meet in the Library Commons. After walking, gather for refreshments and conversation. No need to sign up, just come! Contact: Beth Laureijs, beth@stpaulqc.org.
A Day at the Kreiter Tree Farm: St. Paul people and friends are invited to spend time wandering the Kreiter Tree Farm, on Saturday, June 8, 10 a.m.-2 p.m. Walk the trails, sit by the fire pit, visit the limestone house, go fishing in the pond (bring your own pole and bait!), or watch and listen for the wildlife that live there. Address is 12010 70th Ave., Blue Grass. Rain date is June 15. Any postponement will be communicated on the St. Paul website and social media. Contact: Ann McGlynn, ann@stpaulqc.org.
2136 Young Adults Day Trip: Hiking and wine on Saturday, June 15. Meet at church at 10 a.m. to caravan up to Maquoketa Caves State Park. Hike for a couple of hours, then stop by Tycoga Vineyard & Winery in DeWitt on the way back home (pizza and wine available for purchase). Pack a lunch or snacks as needed. If you can't make it for the hike, feel free to come to the winery around 1:30 p.m. RSVP and/or questions: joshua@stpaulqc.org.
All St. Paul Pool Party: Splish splash! It's an all-St. Paul pool party at Annie Wittenmyer Aquatic Center, 2828 Eastern Avenue in Davenport, 6-8 p.m on Saturday, June 22. All children and teens must have an adult present. Event is limited to 250 guests. Sign up at stpaulqc.org/signups.