1
A drummer's life: Cooper Schou
Ask Cooper Schou how much he practices the drums. His response? "Consistently."
And then he smiles.
Cooper, who was just one of two drummers selected this year for the Iowa 4A Iowa All-State Jazz Band, says "consistently" really means "none." What he does do, he said, is a lot of playing and performing. And listening to music. And reading music. And thinking about music when he's not doing any of those others.
This coming fall, he will be doing all of that at the University of North Texas – one of the best-respected music schools in the country. It counts among its notable alumni Roy Orbison, Norah Jones, Don Henley, and many other award-winning musicians.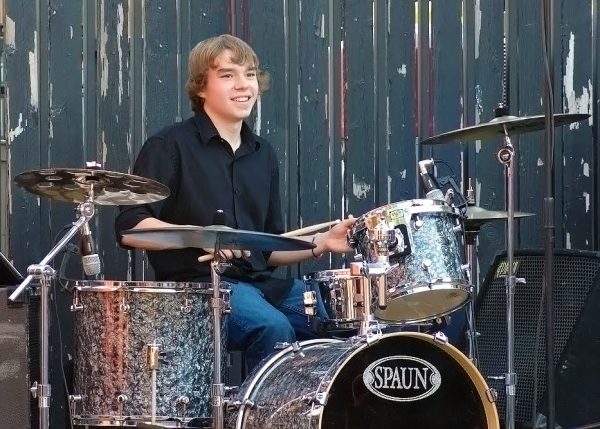 Cooper, the son of Brian and Holly Schou, started playing percussion when he was in fifth grade at Hampton Elementary School. That grew into learning how to play a drum set. His love of music is rooted in his family's love of music, especially his dad.
"We went to Guitar Center a lot," he said, where he saw lots of fabulous drum sets as a kid.
Over the years, his love for performance has grown. He plays in jazz bands, a group formed with friends from Rock Camp (a music camp put on by the River Music Experience), his dad's band (Sin City Orchestra), for weddings, and at restaurants. He sings in the choir at school, and plays in the orchestra.
Cooper also volunteers as a Sunday school assistant for first-graders at St. Paul, fills in with the Open Spirit ensemble on Sundays, and comes to Sunday Night Live almost every week.
At North Texas, he looks forward to studying under two of the best teachers he knows – Mark Ford, who is one of the leading experts in marimba, and Ed Soph, recognized for his expertise in drumset.
"I really want to perform," Cooper said. "I would also like to eventually earn a doctorate and teach at the college level."