Last week I joined more than 20 St. Paul folks on a mission trip to Chavies, Kentucky. (If you don't know about these biannual trips to serve with Appalachia Service Project, you should check them out. Another group is going October 1-8.)
The crew I was a part of spent the week at the home of two loving grandparents. We tore off an old tin roof and replaced it with a new one. When we finished with the roof, we spent about half a day putting on some new siding. The work we did required a lot of tools, and, at times, more than a little expertise.  We used hammers and pry bars, impact drivers and an air-nailer. We used staple guns, saws, and chalk lines. Before and after pictures show a remarkable difference in the home, but just as easy to spot is the work that still needs to be done.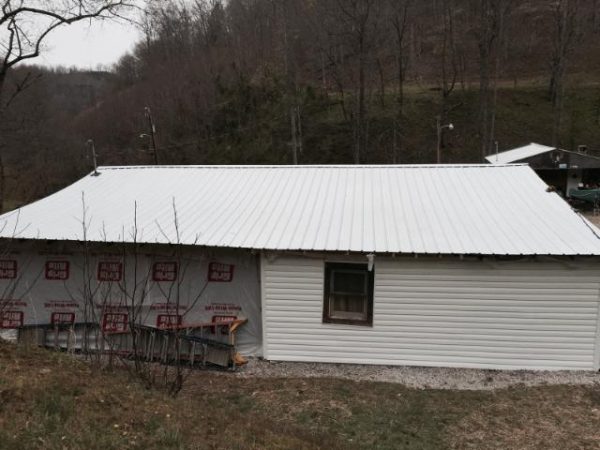 Any of us could say the same thing about our lives of faith. Some of us have come a long way from where we started, but no matter who we are, there's still a lot of work that needs to be done. This is why Paul's words to the Philippians are so encouraging: "I am confident of this, that the one who began a good work among you will bring it to completion by the day of Jesus Christ" (Philippians 1:6).
God will finish what God has started. In the meantime, we are all a work in progress. Not one of us is a finished product, and God will use all sorts of tools – whatever it takes – to get the job done.  As my pastor reminded me when I was a college student, "Sometimes God uses a nice, hot shower, and sometimes God uses a hammer and saw."
I shared these thoughts with our confirmation students last night and pointed out that finishing confirmation doesn't mean we're finished growing in faith. None of us ever are. Confirmation is one tool that God uses. Sunday morning learning, small groups, and Bible study are others. Worship is one of God's tools. But, so are the tough days we all face, the relationships we form with people outside church, long walks on a sunny afternoon, and long nights next to a hospital bed.
Let's take one more cue from the opening of Paul's letter: Let's thank God for one another and remember one another in prayer, because none of us are perfect. We're all under construction.
– Ryan Bailey, director of faith formation