2
A new cross, built by hand
In the shop he built by hand, Brian Lovig crafts gorgeous wooden creations.
Dressers. Bunk beds. Cabinets. Chairs. Pieces of art with inlaid wood. And most recently, Brian built a new cross for the St. Paul Chapel. A just-completed renovation to the audio-visual system called for a different cross for the space.
Brian talks with a gleam in his eye about color and grain and the different smells of each type of tree. Cherry is his favorite – it smells nice, is easy to work with, and stains beautifully.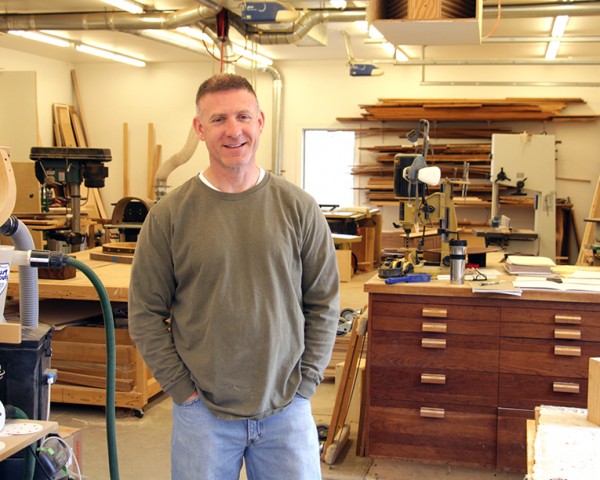 "For me, going to a lumber store is like going to a fabric store" for quilters, sewers, crafters, he said. He wanders the aisles and thinks of all of the great projects that can be done – and almost always comes home with extra for future projects not-yet-determined.
Brian's shop is just outside the home he shares with wife Amy and sons Brady and Mason. This is Brian's full-time work that allows him to be close to home for his sons. He does not advertise, all work comes to him by word of mouth.
The love of woodworking started in high school, when Brian took a few shop classes. He went on to college at the University of Northern Iowa, where he focused much of his time on studying music, and in particular the French horn. After he graduated from college, Brian went to work as an elementary school teacher.
The Lovigs moved from Iowa to Georgia, then back to Iowa again. One of the first projects Brian remembers is when they were expecting Brady. He decided to try and build a baby crib. With help from his friends at the lumber store in New Windsor, Illinois, the crib became a reality. He started working on projects in his garage in Georgia.
It was when they moved to Cedar Falls that Brian made the change from teaching as profession to woodworking. First, he worked for a homebuilder on trimming out houses. Then he went to work for a high-production cabinet maker, where he spent a lot of time staining. He continued to spend time on the side working on his own projects, too, collecting tools and machines along the way.
"Wouldn't that be awesome to be on my own," Brian remembers thinking.
About five years ago, Lovig Woodworks officially came to be. Craftsmanship is at the core of everything he does.
His shop, equipped with machines and tools that will make lumber smooth, flat, thin, and even curved (!) is now where Brian spends his days – creating. He builds custom pieces from ideas in customers' minds.
It's in the creation that he finds the most joy.
"That stack of wood will be a bunk bed," he said, point to lumber on the floor of his shop. "I really enjoy taking something rough and transforming it into something really beautiful."