A bake sale of love
One night, Ashanti Kolwey had a dream about helping a teacher at her school who is fighting a really difficult battle with cancer.
A fifth-grader at Walcott Elementary, Ashanti had never had Renee Sinksen for a teacher, but her friends did, and she knows Mrs. Sinksen's kids. She had heard lots of things about what a good person Mrs. Sinksen is and how much she means to so many people.
So Ashanti talked with a couple of her friends (and fellow St. Paul members), Ellie Holdorf and Rachel Ehlers. They brainstormed some ideas, and decided to hold a bake sale for the Sinksen family. They sought permission from school administrators, skipped recess to plan it out, and convinced friends to make some delicious treats. They invited their friend, and Mrs. Sinksen's daughter, to help out, too.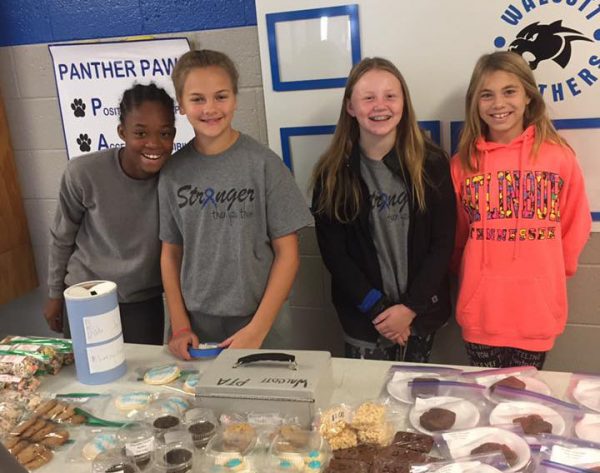 Are you ready to hear how much money they made?
$775!
That's right. For this mom of three girls, beloved wife and teacher, they gathered up brownies, Rice Krispie treats, cookies, cupcakes, and all sorts of other amazingness, and raised a whopping $775 over three days, selling items ranging from $1 to $5.
They wore their #sinksenstrong T-shirts that day, too. The front says "Stronger than you think."
The bake sale money has been delivered to Mrs. Sinksen.
And now, Rachel's mom, Angie, is organizing a second baking-related extravaganza to raise money for the Sinksen family. A pie auction is set for Friday, Nov. 10, at the Walcott Coliseum as part of a larger benefit for the family.