Book Corner
Shopping the Book Corner:
Please email bookcorner@stpaulqc.org for over-the-phone shopping with curbside pickup or to make an appointment to shop in person.
Hours for the Book Corner
Sundays, 8:30 a.m.-12:30 p.m.
First Saturday of each month, 4:30-5:45 p.m.
Awakened mind | Stirred heart
Every book is carefully selected by St. Paul pastors, staff, and avid St. Paul readers. Books are priced below retail, without sales tax. A copy of each new book is donated to the church library.
Awaken your mind and stir your heart with current and classic Christian books of enduring significance. You'll find home devotional materials, Bibles, and scriptural resources. Helpful books focus on Lutheranism, spirituality, prayer, family, life's circumstances, and contemporary issues. Vibrant children's books and adult fiction abound too.
Antiracism resources in the Book Corner
Find the Book Corner on Facebook
Which Bible translation is for me?
Gifts for global justice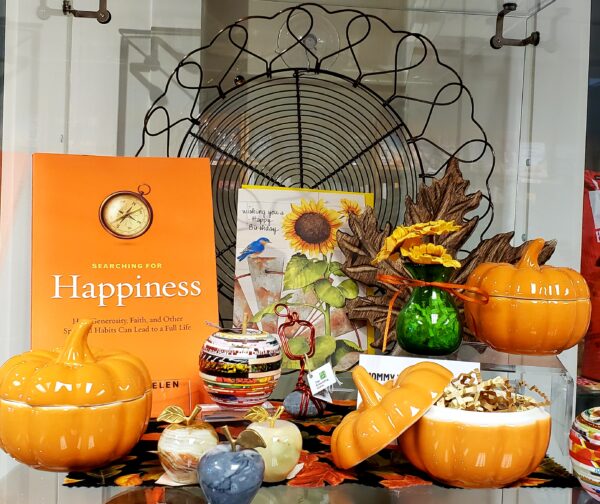 The Book Corner is committed to stocking gifts and products that provide fair income for the world's poor. Fairly-traded handicrafts from around the world come to us through networks of artisans like 10,000 Villages and SERRV International, as well as Beautifully Made Fair Trade, dZi, Lucuma, Mira Fair Trade, Muichic, Swahili African Modern, Unique Batik, Venture Imports, Wireworx, and World Finds.
Self-sufficiency for poor and unemployed women is the goal for the Women's Bean Project, specializing in bean soups and salsas. Out of the Blue granola lends a hand to Tennessee women recovering from abuse and addiction.
You'll taste justice too. Gourmet coffee, tea, and chocolate are provided through Equal Exchange and Lutheran World Relief. Your purchase ensures that more of the money you spend on coffee reaches the farmers who actually grow it. Fair Trade coffee is a simple solution that means the difference between surviving and not surviving for small-scale coffee farmers.
Other vendors provide distinctive gift items that are expressive of a grace-centered life, including St. Paul apparel, created by Handicapped Development Center, beautiful bath and body products from Agrow's House, and batiks from Empower Tanzania.
Greeting cards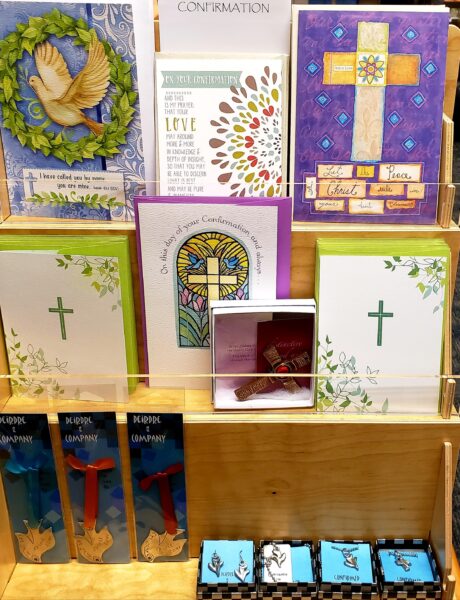 The Book Corner stocks greeting cards that carry messages of encouragement, consolation, joy, and celebration. You're not likely to find these vendors in any other Quad-Cities location. All cards are priced below retail and without tax.
18th Annual All St. Paul Reads
All St. Paul Reads took place on Thursday, Feb. 11. Attendees were able to view a recorded message by Book Corner Manager Karen Holden, Pastor Sara Olson-Smith, and Director of World Relief Quad Cities Laura Fontaine. The video is still available for you to view by clicking here.  And don't forget – we still have copies of "A Map is Only One Story" available in the Book Corner for $12. To purchase a copy please email Karen at bookcorner@stpaulqc.org.
"For I was hungry and you gave me food, I was thirsty and you gave me something to drink, I was a stranger and you welcomed me." – Matthew 25:35

All St. Paul Reads is encouragement for all to read and talk about a single book title in the same year. The Book Corner sponsors this annual movement in community, reading, and faith.
Book Corner Team – Karen Holden (Book Corner Manager), Jan Bush, Jeannine Crockett, Belinda Holbrook, Georgeann Kreiter, Marcia Robertson, Pastor Sara Olson-Smith
Book – A Map Is Only One Story: Twenty Writers on Immigration, Family, and the Meaning of Home, edited by Nicole Chung & Mensa Demary 
From rediscovering an ancestral village in China to experiencing the realities of American life as a Nigerian, the search for belonging crosses borders and generations. Selected from the archives of Catapult magazine, the essays in A Map Is Only One Story highlight the human side of immigration policies and polarized rhetoric, as twenty writers share provocative personal stories of existing between languages and cultures.
As you read or think back on reading A Map is Only One Story, please consider your own roots in America. Think about your family's American origin stories. How might the experiences shared in the book be similar to yours or those of your ancestors? How might they be different?
Lutheran Immigration and Refugee Service
Laura Fontaine, World Relief Quad Cities Director
World Relief Quad Cities is a non-profit agency providing services to refugees and immigrants in Western Illinois and Eastern Iowa. World Relief's mission is to serve vulnerable populations in and through a partnership with local churches, agencies, and the community-at-large.
Restaurants owned by Immigrants
Since we are not meeting in person to share a meal this year, thank you for considering enjoying a meal from one of these restaurants, owned and run by immigrant families:
Miss Phay Café
MJ Chinese and Vietnamese Restaurant
Tantra Asian Bistro
Mantra Indian Cuisine
La Finca
Indian Café – Located in the World Food Market
La Rosa de Michoacán
Taste of Ethiopia
Lemongrass Café
Sriracha Thai & Oyster Bar