1
A colorful corner of the world
It started out as a strip of plants along the back of Jeanne Withycombe's home.
Today, on these July days of sunshine and rain, her large garden bursts with life – colorful flowers, beautiful birds and crawling little critters. "It's at one of its prettiest times," said Jeanne, who lives in Bettendorf with her husband and son.
The cardinals, humming birds, "sparrows by the thousands" and migratory birds come and visit this colorful corner of the world often. It is there they find trumpet lilies that came from Jeanne's grandmother's garden, a three-generation Burford Gold lily, hostas, willow trees, and countless other vibrant plants – mostly perennials.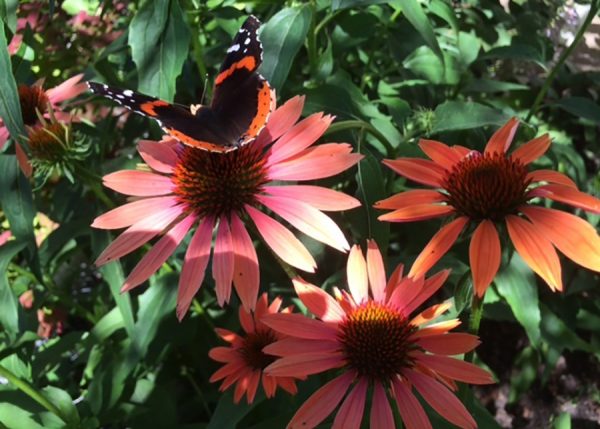 "I've always enjoyed being outside. I feel closer to God out here," she said.
Like a painting, drawing, or other artistic endeavor, Jeanne sees gardening as her artistic creativity. She doesn't have much luck with making paintings and such ("I can't make my hands do what I see in my mind"), but she can create with plants. She loves to mix all different colors, and thinks about height when planning her plantings.
Once the first several weeks of the year have settled in, Jeanne spends hours wondering around Wallace's Garden Center, and turns to gardening magazines and educational sessions to think about the coming summer. She chooses her hostas, for example, by color and name. Names of her hostas include Peter Pan, Liberty, Mouse Ears, and Justice. She has a map of her gardens, and keeps a garden diary, too.
As butterflies and bees flew around, and landed on Jeanne's flowers, she noted that she already has plans forming in her mind for next year.
"I like getting my hands in the dirt, making things grow," she said.