A contemplative pathway
Darkness fills the Sanctuary. White candles are anchored in white sand in wooden boxes surrounding a large wooden cross down by the altar.
One by one, people come through the doors and make their way to a space in a pew. They are scattered throughout the space. This is a time of quiet.
KJ Rebarcak is here on this night. She is almost always here, at this Prayer Around the Cross worship.
She sings with her beautiful alto voice. She prays. This time quiets her mind, allows God to enter.
"I can breathe more deeply," she said. "I can feel tension leaving my body. I can feel myself quieting down. I feel more open and receptive to God."
Prayer Around the Cross is an example of the contemplative pathway at St. Paul. The songs are simple and easy to learn; the repetition is calming and focusing. The words are of a loving God.
The Bible speaks of quiet, KJ notes: Be still and know that I am God. God spoke to Elijah in a whisper.
"Prayer Around the Cross is helpful, regardless of what is going on in my life," she said. "If I am grieving, it soothes me. If I am happy, it helps me feel more joyful and grateful. If I am trying to make a decision, it helps clear my head.
"I feel safe. It's a refuge."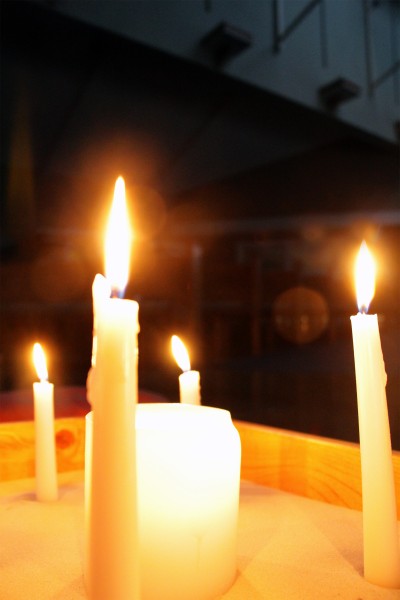 Intentional and unexpected
Contemplative experiences can be intentional ones – the quiet, candlelit experiences like Prayer Around the Cross. Examples of other intentional experiences include time away such as a retreat at
New Melleray Abbey or walking a labyrinth in the countryside.
But Pastor Katy Warren, who leads Prayer Around the Cross with Chris Nelson, director of music ministries, encourages another way to see contemplative practices.
"Look for the contemplative during big times, times when you are surrounded by lots of people," she said. "For example, there are contemplative elements in a worship service with 700 people."
During worship, the time of Confession is a time to look inward. The offering moment offers space to reflect. The minutes spent with a quiet heart after Communion is a time of contemplation as well, she said.
Certain hymns in the red Lutheran hymnal have a contemplative feel. Two examples are Wait For the Lord and Come and Fill Our Hearts.
And whenever a group gathers together in Bible or book study, or at a meal in Fellowship Hall, the time of prayer is a time to center hearts and minds on God. "It's gathering ourselves into God," she said.
Retreat
Jeanne Olsen is at New Melleray Abbey near Dubuque. She is chanting the psalms with the monks there, in a vaulted chapel made of local limestone.
The morning sun is shining in the windows. She visits the abbey once or twice a year. Some of her most favorite photos are images of this most holy place.
Jeanne admits with a smile that she has a personality that has some intensity to it. She calls herself Type A. "As I looked at my life, I thought if Jesus needed to get away and reflect, I most certainly need to," she said.
In addition to retreating at New Melleray, Jeanne has an interest in labyrinths, a spiraling walking path.
People have practiced this form of walking meditation since at least the 13th century, when a labyrinth was placed on the floor of the Chartres Cathedral in France. The entry and exit are at the same place, with a place for stationary contemplation in the center.
The directions are simple: follow the spiraling path, clear your mind and become aware of your breath, take your time, focus on the journey, move at your own speed, take as much time as you need in the center.
Those who walk labyrinths often choose a mantra, such as "Thank you, Jesus," Jeanne said. "Take time in the middle to pray, leave something behind – a flower, or a rock for something heavy in your life," she said.
While walking a labyrinth is meaningful for Jeanne, she finds her morning walks a time of contemplation, too. "The sun is rising, the birds are chirping, the leaves are showing us the season," she said.
Closer to God
Prayer Around the Cross is coming to an end. The white candles are now lit, and an invitation is made for people to come forward, light their own candle, and offer a silent prayer.
KJ comes to the front on the Sanctuary to light a candle.
She pauses in prayer.
She rises, turns, and makes her way to the back of the Sanctuary. Before she opens the doors to leave, she looks back at the flickering candles.
And in that moment, "I feel closer to God."