A Listening Ministry
It began with a question.
A woman named Mavoreen Briggs was an auxiliary volunteer at what is now Genesis Medical Center. And there was a rule that bugged her.
So she asked: "Could we change the rule about not talking to patients when we take the Notions Cart around? I think patients want to talk."
The year was 1966. After approval from administrators, Chaplin Marlin Whitmer began training for three women – Mavoreen, Nan Power, and Jane Butterworth.  Befrienders was born.
"When people are sick and in the hospital, they need to talk about what they are going through," said Jeanne Olsen, a St. Paul member who led the Befriender program until her retirement two years ago.
It remains a passion for her. "A Befriender creates a safe space for patients. They go in without an agenda, except to be present and listen to what the patient needs to talk about."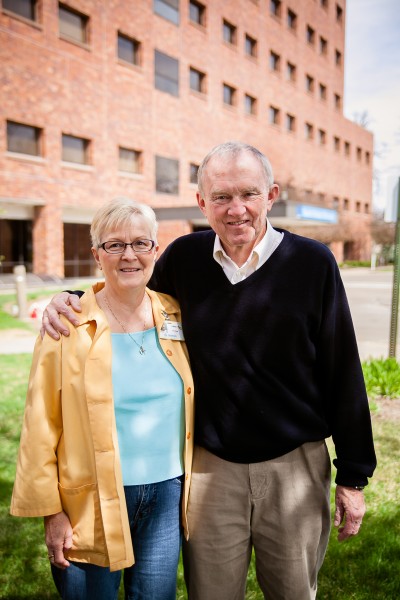 Helps with healing
When Linda Hoepner retired from Arsenal Island, she began the search for meaningful volunteer work. She started her Befriender training in 1994. This is her 20th year.
Every Tuesday, she visits people hospitalized at Genesis. She receives a list of patients from the chaplain, knocks on their door, and asks if they are up for a friendly visit.
She promises them one thing – she is a volunteer and she is not there to poke or prod them, only to listen. One of the most significant benefits for the patient, Linda said, is that she is someone outside of the patient's circle of family, friends, and acquaintances – a person who will keep what she is told confidential.
"They share fears and concerns, their anxieties," she said. "I really believe that it helps with their healing process."
The benefit for her? "When I've had a good visit with someone, when I leave them, I feel so honored that they've shared their life with me," she said.
Linda's husband, Jim, followed in her footsteps. He went through Befriender training a couple of years after her. It is through that training, and through experience, where he learned a variety of techniques to start a conversation.
"Tell me about your growing up," he'll ask. Or, if a patient has photos or flowers, he'll ask the person to tell him about those.  Jim has expanded his work into assisting with grief groups.
He has found great meaning there, listening to people tell stories of their loved ones, of how they are affected by their grief, and being a part of a comforting support network of others who care.
In all Befriender work, "We're not going to solve the medical issue. Nor are we going to make the grief go away. We're encouraging.  "We're a nonjudgmental presence, to give them a chance to express themselves," he said.
The core of befriending
Nonjudgmental – it's one of key attributes of a Befriender, said Patty Tillman, who now directs the Befriender program at Genesis.
"We meet people from all kinds of different walks of life – economically, socially, people who are not religious at all," she said. "We teach Befrienders that we do share our faith, but we do it in a very silent way."
The core of befriending is listening, she said. They are compassionate people who have a listening ear to give to patients and families who are experiencing the physical, emotional, and spiritual changes that happen when experiencing a physical illness.
"They are taken out of their community and they have an infinite amount of time to reflect on their lives," Patty said. Befrienders are trained to do very little talking, she said.
They volunteer one morning a week, from September through May, with summers off. The chaplains begin each morning with that day's group of Befrienders in Chapel, to center themselves for the day.
"We work to keep them spiritually filled up," Patty said. "This is life-changing work."
The hands of Christ
Carol Seitz visits patients on the fourth floor of Genesis East on Wednesdays. Sometimes, she said, it's the family or friends of the patient who need to talk.
"Their spirits are lifted because someone has come to see them," she said. "Many times, they will say things that they can't say to others, talk about their fears or their shortcomings." She, too, used the word "listen" a lot.
"You have to let people be who they are," she said.
Back when the hospitals in Davenport were affiliated with religious orders, each room had a cross with Jesus on it hanging on the wall, Jeanne Olsen said. Every once in a while, a cross would fall to the ground. A couple of times, the hands broke off of Jesus.
Jeanne asked if she could keep one of the broken crosses to hang next to her door when she directed the Befriender program.
"It was a reminder that we are the hands of Christ," she said. "That is this ministry. It is holy ground when you walk in a room and you bring that presence. Christ said that is our mission to go out and be present to his people, to the sick and the elderly. You are Christ to them. You are the hands of Christ."
To learn more about Befriending, contact Patty Tillman, chaplain, at 563-421-7971. Training begins in the fall, with 16 weeks of sessions on Tuesdays.