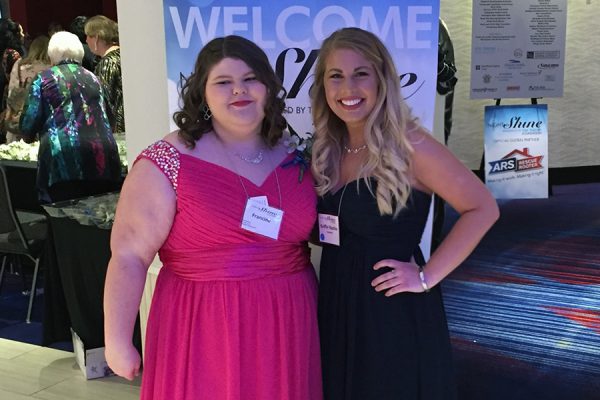 Editor's note: Griffin Rasche is the communications intern at St. Paul. She is a senior at St. Ambrose University, majoring in multimedia journalism and strategic communications. She recently attended a Night to Shine prom event for people with disabilities – along with many others from St. Paul.
I had the blessing to serve as a "buddy" for one 16-year-old prom-goer named Francine Pace. Greeting me with a hug, she shared that she had been looking forward to this night for months.
Ninety thousand people with disabilities across the U.S. and in 16 countries participated in the Tim Tebow Foundation's Night to Shine proms on Friday, February 9. Two of the events were in Davenport, at the Rhythm City Casino and Trinity Lutheran Church and School.
Despite snow cancellations in the area and cold conditions, this event couldn't be stopped. More than 500 guests and volunteers attended the Rhythm City Casino event –  double that of last year.
Now linked hand in hand, Francine and I walked down the red carpet and were greeted by a line of knights, cheering guests, and a "paparazzi" crew. The royal treatment did not stop there – every guest rode in a limousine, had their hair and makeup done and shoes shined. In addition to food, there were also therapy dogs, karaoke, and a dance floor. This is where the largest crowd formed, whether it was to the tune of the Cha-Cha Slide or Footloose.
I spent most of the night with Francine on the dance floor. Her favorite move? Pirouetting. The full skirt of her bright, pink dress flared out in an elegant, dazzling blur. It warmed my heart as she asked people around her to dance, making new friends in the process.
However, the best was yet to come.
Unlike the proms I attended in high school, every guest was crowned king or queen of the prom. Through a sea of sparkling crowns and tiaras, the smiles on their faces truly out shined them. This was by far my favorite part of the prom – topped off with Francine whispering in my ear, "I feel like a princess."
As the night dwindled down, a guest sang the National Anthem and we were given a special message from Tim Tebow. He told the participants that they are all gifts from God and that the night was for them. "You have meaning, and you have a purpose," he said.