2
A place called home: A grandfather's art
Heidi Watkins attended a concert with her mom, Patty (Lundahl) Watkins, about 15 years ago at First Lutheran Church in Moline. As she sat in the pews, she noticed the incredible mural behind the altar, and half-moon-shaped pieces depicting the life of Jesus up in the high ceilings of the historic sanctuary.
At one point, her mom leaned over and told her that it was Heidi's great-grandfather who created them.
"Aren't they just gorgeous?" Heidi said as she stood in that same sanctuary earlier this week.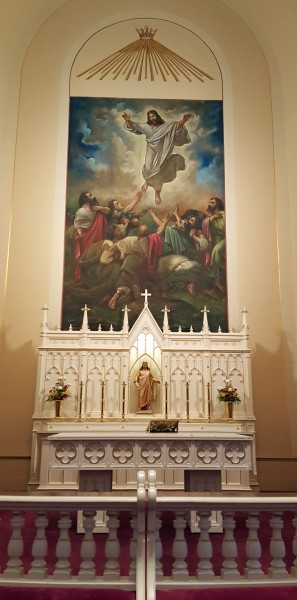 Frank Lundahl's life as an artist is getting some attention lately, as a portion is on display at the Augustana Teaching Museum of Art. "A Place Called Home: Frank Lundahl and the Quad Cities" runs through Feb. 12. The exhibit showcases works donated to the college by the Watkins family and the Castel family of Davenport – both descendants of a prolific painter who made his living, and his life, painting and sketching sacred and secular scenes. It is free and open to the public, Wednesday-Saturday, noon-4 p.m., when classes are in session. The museum will be closed Dec. 18-Jan. 10.
Claire Kovacs is the director of the museum. The college, she said, is excited to display the collection, as part of a renewed commitment to share artists and their works with the community. The Augustana pieces are ones that were not commissioned pieces of Frank's – they are pieces he created in his free time, because painting and sketching were who he was. He explored a variety of styles, mediums, and even what he painted on. One piece is on the back of wallpaper, others on canvas, and even cardboard. Oils, watercolors, graphite – his deep need to create is clear.
In preparation for the exhibit, Clare gathered information about Frank, through community archives, newspaper articles, visits to the places where his works remain, and conversations with those who knew him – and his ancestors. The story she pieced together is told on a panel near the entrance of the exhibit.
Frank Lundahl (1858-1932) was a Swedish-American artist born in Rock Island.  He first trained under Lars Axel Blombergson, a Swedish painter who immigrated to Moline. He later studied at what is now the Art Institute of Chicago.
Making his living as a muralist, Frank created canvas paintings in his studio, which were then installed onsite. He painted church and secular murals for interiors in the Quad Cities, as well as in Chicago. While many of his murals were created in buildings that have been torn down or renovated, such as the Second Congregational Church in Moline, the Moline Public Library, the Illinois Theater in Rock Island, and the FOE building in Rock Island, his works still survive at the First Lutheran Church in Moline and the Capitol Theater in Davenport.
His ceiling paintings in the Joseph Huntoon Homestead in Moline played a role in a vigorous community debate when the house was slated for demolition in the mid-1980s.
Through his commissions, Frank established a reasonable reputation as a muralist in the Quad Cities.
But when not creating works on commission, Frank created sketches and paintings that focus on the Mississippi Valley. "Working in oils, watercolor and graphite, these works — a dramatic shift in focus from his interior murals — are a portrait of the daily life in the region: river boats, landscapes, farm scenes and still lifes."
The largest piece in the Augustana exhibit is The Blacksmith. Started in 1900, it was meant to be a tribute to John Deere. A hoped-for sale to the company never materialized. Instead, it hung in Patty Watkins' childhood home for many years. In 1991, it was restored, donated to Augustana, and installed in Wallenburg Hall, where it remained for a number of years.
Today, several of Frank's descendants have pieces in their homes, including Patty and Heidi. There's one large piece in particular that Patty hopes to have restored.
"It's nice that he's being recognized again," Patty said.