A POW, a quiet hero remembered
Lyle Sheldon grew up in rural Clinton County, working as a farmhand until he was drafted by the Army in 1941.
After training in Louisiana, his division was loaded up on ships and sent to Northern Ireland…then to Scotland…then to Africa. His unit was captured in February 1943 by German forces.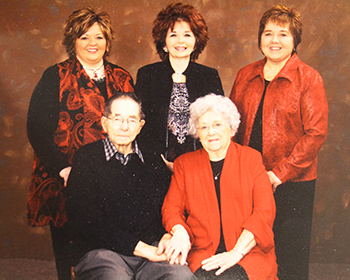 His time as a POW was marked by riding days in a crammed boxcar without food or water, working on a German farm, and being marched more than 300 miles, day and night for months. There was malnutrition, illness, and deplorable living conditions.
"The POW group grew, as German forces consolidated several different groups of POWs. Ultimately, the troops guarding the POWs left them to fend for themselves. Four miles outside of Salzwedel, Germany, on the morning of April 14, 1943, an American jeep drove into their camp and liberated it."
Pfc. Sheldon returned to the United States on May 14, 1945. He died early this month at the age of 98.
He met his beloved wife, Norma, after his return. She worked in a grocery store in Lost Nation, Iowa, and he would stop by to say hello. Then they'd go dancing.
"I miss everything about him," Norma said. "He never spoke a mean word about anyone. I'm proud to say he was my husband."
The couple had three daughters, Janine (McClimon), Galya (Eads), and Annette (Lahey). Lyle worked nights at Caterpillar and days as a carpenter. But no matter how tired he was, he always had time for his wife and kids, his family said. One of his daughter Annette's favorite memories is of him letting her put curlers in his hair – day after day after day.
"I can't ever remember him yelling at us," Gayla said.
"He had a very quick sense of humor," Janine said.
Lyle was involved with the American Legion and Veterans of Foreign Wars. He loved classic Westerns, music, and attending polka fests in Durant and Walcott.
For years and years, he never spoke of his time in the Army. Then, in the late 1980s, his grandson's elementary school teacher invited him to come speak to the class – and the stories started to come out.
He went on the first Honor Flight out of the Quad Cities, an initiative to take WWII veterans to visit Washington, D.C. and war monuments there. He also was recognized at the POW/MIA ceremony held each September on Arsenal Island, including placing the wreath.
Most of the WWII veterans are in their 90s. They are dying at the rate of approximately 492 a day, according to the Veterans Administration. During the war, 16 million people served. Today, just more than 1 million are living. By 2036, it is estimated there will be no living veterans of World War II.
On the day of Lyle's funeral at St. Paul, the Patriot Guard and their motorcycles helped guide the procession to the National Cemetery on Arsenal Island. When his family returned to church for the funeral luncheon, the Blue Angels, in town for the air show, flew overhead.
His family talked about how one would think someone who endured an ordeal as Lyle could be angry and bitter. Instead, he was a proud veteran who lived a life of kindness.
"He is our hero," Annette said.