All St. Paul Reads 2020: This Blessed Earth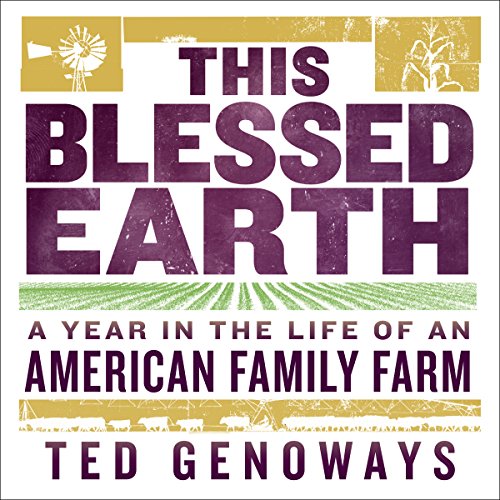 This Blessed Earth: A Year in the Life of an American Family Farm by Ted Genoways and Mary Anne Andrei is the 2020 All St. Paul Reads book. All St. Paul Reads is encouragement for all to read and talk about a single book title in the same year. In 2020, this dinner and discussion event will take place on Thursday, February 13, 6-8 p.m. This Blessed Earth is available for purchase for $10 in the St. Paul Book Corner. To help plan for dinner, please RSVP at stpaulqc.org/signups.
Below, author Ted Genoways discusses how This Blessed Earth came about, and about the stories and themes that emerged. To read more, www.tedgenoways.com
Mary Anne and I set about looking for a farm family that would allow us to do something simple but intrusive: follow their operation from one year to the next, as they went through the cycle most Americans have forgotten — harvest, calving, planting, breeding, corn detasseling, livestock sale, and harvest again.
That's when we met Rick Hammond. Rick grew up on a small ranch in western Nebraska, and for 40 years he has raised cattle and crops on his wife's fifth-generation homestead in York County, Nebraska, with the hope of passing it on to their four children. But as the handoff has grown nearer, their small family farm—and their entire way of life—has increasingly come under siege.
When we first got to know Rick, he and his daughter Meghan had become leading voices of opposition to the Keystone XL pipeline. That project, intended to carry heavy crude pumped from the Alberta tar sands in Canada nearly 2,000 miles to Port Arthur and Houston on the Texas Gulf Coast, was slated to cut through major portions of their family cropland.
Meghan and Rick argued that it would not only slash their production but also posed an existential threat to the Ogallala Aquifer, the underground reservoir of fresh water that most midwestern farmers depend on to irrigate crops and water their cattle. Rick was so determined to stop the project that he agreed to let the antipipeline nonprofit Bold Nebraska build a solar-powered barn on land he rented from his in-laws. If he was going to give up farmland, he said, he'd rather lose it to a solar project than to tar sands.
I admired the fierce and outspoken stance that the Hammonds struck — but it also put them at remarkable risk. A neighbor who supported the pipeline abruptly terminated a long-standing tenant contract, which meant that Rick would no longer be able to rent that land for soybean production. At the same time, after nearly a decade of record-high corn and soybean prices, the bottom dropped out of the markets, making it ever harder for small farmers to shoulder their loans — forcing more and more to sell out and dragging down land values.
So, headed into the harvest of 2014, Rick and his family needed everything to go right. Without that money coming in from the rented land, Rick knew that he couldn't afford to buy new machinery for the year, or replace his center-pivot irrigation system. He needed to have a full year of paying down loans, not incurring new debts. He needed a year in which crops came in early and healthy, prices rebounded, equipment held out. And if he was forced to take out more loans, he needed interest rates to stay low.
I told Rick and Meghan, as well as Meghan's fiancé, Kyle Galloway, that this would be an ideal year to show readers just how much pressure the average farm family is now under. I asked if Mary Anne and I could be with them for every major event on the farm for the coming 12 months.
To my surprise, they agreed.