Kathie Heaps first saw the story on Facebook, of a barber in Dubuque that gives free haircuts to kids as long as they read a book to him.
Immediately, she knew: "I can do that!"
Kathie, a hair stylist for more than three dozen years, has tutored students of Madison Elementary School teacher Carol Johnson for about a dozen. Keeping St. Paul's partnership with Madison Elementary School in mind, she knew exactly how she could make it happen.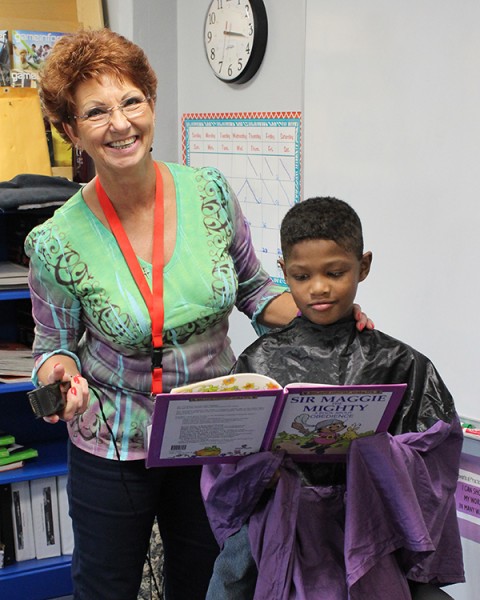 Kathie talked to school leaders, and to Dana Welser, the St. Paul staff member who guides the St. Paul partnership. They thought that offering haircuts twice a month during the Madison Marketplace – a community where families come and shop for food and basic household items at no cost – would be the perfect time and place.
Her first week, Kathie had nine kid customers.
"Everybody feels better with a haircut," she said.
The catch? "To pay me, they have to read to me."
The books come from the school, and the students get to take them home after their haircuts. Kathie brings a tarp and a special portable haircut chair. She carries diplomas for first haircuts, just in case. She's open for business from 3-5 p.m., the second and fourth Tuesdays of the month.
She's started taking adult clients, too.
"I'm the one who gets the joy," Kathie said. "When they give you a hug, it's so sweet."
To learn more about the Neighborhood Schools Partnership with Madison Elementary and J.B. Young K-8, visit stpaulqc.org/neighborhood-schools.