1
Broadway comes to Davenport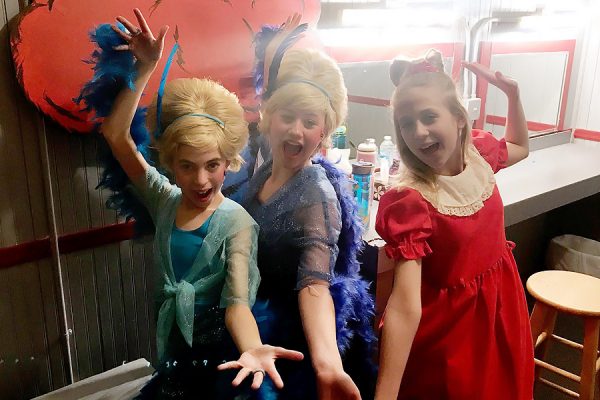 Meet Showtime Pal, two Birdgirls, and one incredibly versatile member of the ensemble for the Davenport Junior Theatre's production of Seussical Jr.
Lydia Hains (Showtime Pal), Anna Harris and Katie Mahl (Birdgirls), and Charlie Hepner (ensemble), are part of one of the largest shows in the theater's 67-year history. Founded in 1951, Davenport Junior Theatre is the nation's second-oldest children's theater. Classes and camps are offered year-round in theater and dance for students ages three to eighteen.
"The last time we did a production on this scale was Anne of Green Gables at the Adler Theatre in 2001 for our 50th anniversary," said Daniel Sheridan, the theater's artistic director.
The 43 kids involved are actors, crew members, tech board operators, front-of-house team members and more.
"I think the kids like being challenged and having lofty goals set for them," said Jessica Sheridan, director. "For the most part, the music is exactly the same as found in the Broadway version of Seussical. Tough harmonies, big ranges and lots of music. It's a 65-minute show and about 2 minutes of it is spoken word. Otherwise it's all singing. And dancing. Lots of dancing. We've been in rehearsals 22-plus hours a week for the past 6 weeks. That's a lot for anyone, much less students who are also trying to balance school, jobs, other extracurricular activities and social lives."
A fall renovation meant $150,000 worth of improvements to the theater, including a $15,000 sound upgrade to accommodate a Broadway musical.
The story is told through the eyes of JoJo, a child who is visited by none other than The Cat in the Hat. Many Seuss characters come alive, as the powers of friendship, loyalty, family and community emerge.
"My favorite line in the show is 'a person's a person no matter how small,'" Jessica said. "The show is about how everyone counts and everyone matters. These kids matter. The other night I almost started crying during the opening number because I was so proud of how hard they've worked."
Each St. Paul cast member submitted a few thoughts about their experience.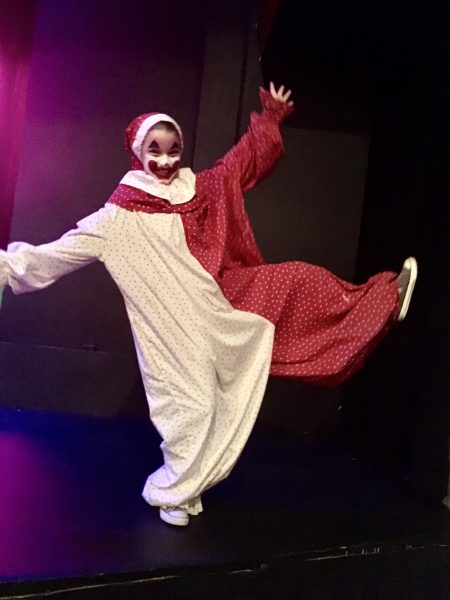 Lydia Hains, Showtime Pal, the theater's MC
What is the best part of being a part of this production? Being Showtime Pal is fun because you get to act silly and energetic. I've been in other DJT shows before, but this is the most lines I've ever had.
What have you done to prepare? Luckily I've been to lots of Junior Theater shows, but it still took practice to memorize it and get it all in the right order in my head.
What have you learned? I was really nervous for the first show and made some mistakes with my lines, and I felt bad, like I'd ruined it. But everyone was nice about it. By my second show, I'd practiced even more, so I felt better prepared, and I did my lines right. So I guess I learned that everybody makes mistakes, you don't need to ashamed about it. You keep trying and you'll do better the next time. And even if you're nervous you can do a good job.
Anna Harris, Birdgirl
What is the best part of being a part of this production? The best part is meeting new friends and performing on stage.
What have you done to prepare? Every single day I came home from school and practiced my songs and dances. Rehearsals were many evenings and on the weekends since the beginning of January.
What have you learned? I have become more confident singing and dancing on stage.
Charlie Hepner, ensemble
What is the best part of being in this production? Meeting great people and seeing how the show unfolded. I loved making new friends.
What have you done to prepare? Took the spring break class last year and practiced a lot! We rehearsed 6 days a week! 22 hours a week! It was so much fun though!
What have you learned? Even when you trip on the set you have to stay in character. It takes a lot of critiquing to make a good show.
Katie Mahl, Birdgirl
What is the best part of being a part of this production? I think the best part of being in Seussical is that Davenport Junior Theatre is such a supportive environment. Everyone is going toward the same goal, which makes making friends very easy. I think that the friendships make the show a little bit more fun.
What have you done to prepare? To prepare, we have been practicing for the past 6 weeks. We had rehearsals for singing and dancing, and different rehearsals for blocking and speaking. We started doing full runs early on in our rehearsal process, and most groups were rehearsing each day.
What have you learned? The show and rehearsal process taught me many life skills. Not only did it teach me how sing and dance better, but also life skills. My group and I rehearsed 22 hours a week, so it not only taught me how to memorize and practice for my show, but also to practice my other instruments, and do school work and homework. This show was a huge learning experience, and was a very fun experience. I will be walking away from this show with many positive memories, and new friends.
Remaining showtimes
Saturday, February 24 @ 1 p.m. & 4 p.m.; Sunday, February 25 @ 1 p.m. & 4 p.m.
Tickets: $6 Kids/$8 Adults/Kids 2 and under free