Conducting The Marriage of Figaro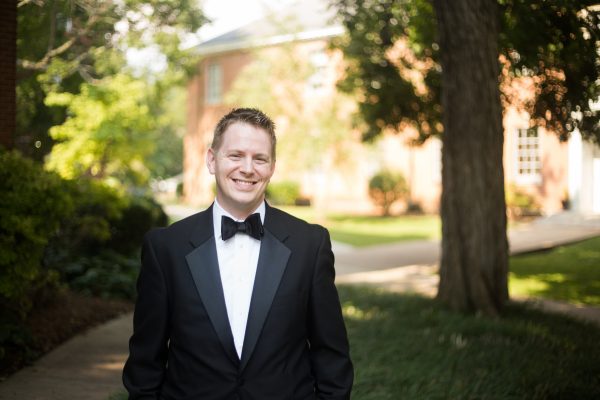 Editor's note: Genesius Guild, Opera@Augustana, Opera Quad Cities, and the St. Ambrose University Music Department will present Mozart's "The Marriage of Figaro," in Allaert Auditorium at St. Ambrose University's Galvin Fine Arts Center this Sunday, June 10, at 2 and 5 p.m. Nathan Windt, who leads the St. Paul Chorale and is assistant professor of music and director of choral activities for St. Ambrose University, will conduct. Nathan took time out from rehearsal to answer a few questions about the opera.
What attracted you to this endeavor? Well, first of all, I love opera! It has everything for me, musically: vocal and instrumental components, musical drama, storytelling, costumes, acting, it's all there. And, when we decided that we wanted to begin this project with a Mozart opera, I was completely sold. Mozart, who wrote in many different musical styles, including sacred music, always made clear how much he valued composing opera, and the music is expertly crafted. It's supremely singable for the vocalists, and the orchestral writing is the perfect complement to the drama. Finally, The Marriage of Figaro is timely, too: even though it was composed over 230 years ago, its message of equality rings true today. And it's a funny, clever opera—there's lots in the plot to enjoy!
How do rehearsals go? We have three weeks (not a lot of time!) to put everything together. The singers and instrumentalists receive their music beforehand, and learn the music prior to staging rehearsals. My colleague from Augustana, Dr. Michelle Crouch, has been working diligently with the singers in planning the characters' movements and emotional responses to the libretto, while the singers work to commit music and movement to memory. In the final week, we move to the stage, and rehearse with the orchestra.
What has given you joy? Easily, it's watching the singers take the musical journey with one of the greatest operas ever written. I've been studying the score for a while now, but in the last four weeks, I have the privilege of spending 6–8 hours a day studying and practicing Mozart's music. Working with these fine singers has been a joy as we work to realize Mozart's creative vision and bring these characters and this story to life.
What has been a challenge? It is difficult to produce a fully staged opera in three weeks! The biggest challenge is pushing the singers, without discouraging or frustrating them, in achieving our musical and staging goals in a short amount of time. The good thing is that everyone is committed to the goal of performing at our best level.
Why do you hope people will come and see this production? First of all, everyone involved in the production, including our set designers, the artist who created the poster design, and of course, the singers and instrumentalists, have put a lot of time and effort into making this a quality performance, so it's always nice to see the community come to the performances and affirm the work we've put into the opera. More importantly, though, is that this represents opera at its best: a timeless story of how people interact with one another, and how our interactions should reflect an empathy in our shared equality and humanity. This is a message that we need now in these divisive times, and what better way to share that message than with humor, grace, and some of the most beautiful music ever composed?
What makes this production unique/special? This marks the first collaboration between four major players in the Quad Cities arts community: the Genesius Guild, Opera Quad Cities, Augustana College, and St. Ambrose University. All of us are committed to a thriving arts scene here in the Quad Cities, and while opera can be a bit daunting to produce, all four of these institutions want to affirm the importance of the arts and music in our community. We have wonderful musicians in our community, and we're all committed to making this work together, not just this year, but for many years to come.