1
Cows & dinosaurs, dogs & frogs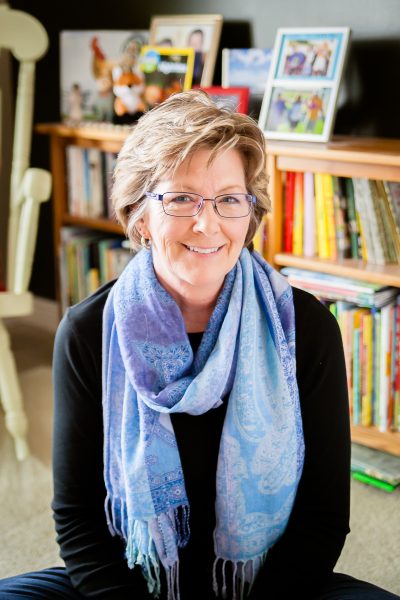 On a sheet of lined notebook paper, a girl named Jill put her pencil to work. She was 7 years old at the time, and she decided to write about the wind and an owl. Even at that young, young age, her words were lyrical, full of wisdom and whimsy.
On a computer, Jill Esbaum put her fingers to work on a keyboard. She was 39 years old at the time, and she decided to write stories for children. Even with the full support of her family, the camaraderie of a writing group, and a pile of writing books checked out from the library, it was difficult to get back into the swing of putting words onto paper.
Her mom found 7-year-old Jill's story about the wind and the owl and shared it with her. "I remembered who I'd been," Jill said, "a child who loved creating stories, also a motor mouth." A book of original hymns written by her paternal grandmother also showed Jill that writing is likely nestled somewhere in her genes.
"I believe we're born to do certain things," she said. "And I'm forever grateful to have rediscovered my love for writing…better late than never, right?"
First yeses
At first, her writing met with rejection. Letters with a message of "no thank you" landed in her mailbox. The silence of no response at all was hard to take, too. But then! One of Jill's pieces was accepted by Country Woman magazine. She started collecting credits in children's magazines like Cricket, Highlights for Children, and Teen.
Her first book yes came four and a half years after she began. Stink Soup is the story of a skunk, a visit to grandma's farm and canning tomatoes. The story uses a little bit of reality (yes, a skunk really did get into a friend's basement) meshed with some stories from a farm (yes, she really did throw tomatoes into a fence as a child).
Then came Steamboat A'Comin, Estelle Takes a Bath, To the Big Top, and Stanza.
Stanza is a dog. He bullies everybody. He eats chicken pot pie. And . . . he writes poetry. On the sly. At night. Because he's extremely afraid his bully brothers will find out. But Stanza doesn't let that stop him from entering one of his poems into a jingle contest. Does he win? Well, what if he did . . . not?
It's a page in Stanza that best describes Jill as an author, she said.
He scribbled and scrawled.
Reconsidered.
Erased.
He wadded up papers.
He pondered.
He paced.
He scoured his thesaurus.
He struggled for rhymes.
He started from scratch at least eighty-two times.
A distinctive voice
Today, Jill writes fiction and nonfiction from her sunny office on her family's farm in northern Scott County. She travels, mostly in the Midwest, to speak and teach about writing. She enjoys visiting schools — "I go on school visits whenever they ask me." Because of the flexibility in her schedule, she is able to spend time with her family, including her grandchildren.
Readers will notice Jill's work is centered on animals — both real and imagined. Her book publishers include Harcourt, Holt, Sterling, Dial, and National Geographic. She connected with a National Geographic editor who came to a writers' conference in the Quad Cities. Jill recently sold three picture books. Where'd My Joe Go? is the story of a dog lost from his truck-driving owner, Joe. Frog Boots is the story of a boy and his favorite new rainboots — and what happens when kids make fun of them.
Her advice for hopeful children's book writers?
Good writing has a distinctive voice and sticks to the relevant details. A story must have humor and heart, and the shorter, the better. Jill's fiction books, for example, are as few as 200 words, no more than 800.
But most importantly, she said:
"Whatever your goal, enjoy the process. And never give up. As it turns out, Mom was right. Practice really does make perfect."
Jill Esbaum online:
Follow Jill Esbaum on Twitter @JEsbaum or on her blog, picturebookbuilders.com