Crew washes dishes, reduces footprint
Scrape. Suds up. Sanitize. Sort. Store away.
At the Wednesday evening meals during Lent this year – as they have for the past half-dozen years or so – a growing crew of people don green aprons. For 90 minutes a week for five weeks, they are a team in constant motion with one goal in mind.
"Reduce waste," said Jules Irish, who leads this environmentally minded group of a couple of dozen volunteers.
The result?
The St. Paul green apron crew saved an untold amount of waste from going to the landfill this Lenten season by washing more than 1,000 plates, at least the same number of glasses and mugs, and triple that number of silverware. They also collected at least three five-gallon buckets of food scraps and napkins to be composted each week.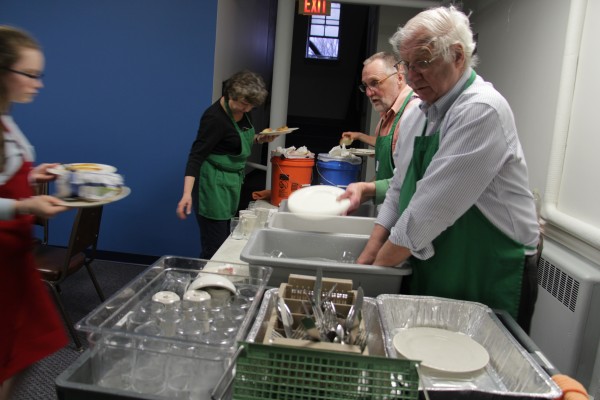 Jules arrives late in the afternoon to set out 200 or so adult plates and about 50 kid plates. Silverware and mugs are set out, too. The buckets come out for composting. One of the most important tasks? "Move trash bins to the side so people don't use them."
One week, all that was found in the trash bins was a few scraps of garbage – an amazing accomplishment given that an average of 250 people come and enjoy dinner on Lenten Wednesdays.
The team arrives around 5 p.m. to eat together before the meal opens for all at 5:30 p.m. Each team member has a job for the evening – scraping, rinsing, loading the dishwasher, drying and putting away, and moving the dishes from the scraping/rinsing table into the kitchen for time in the dishwasher.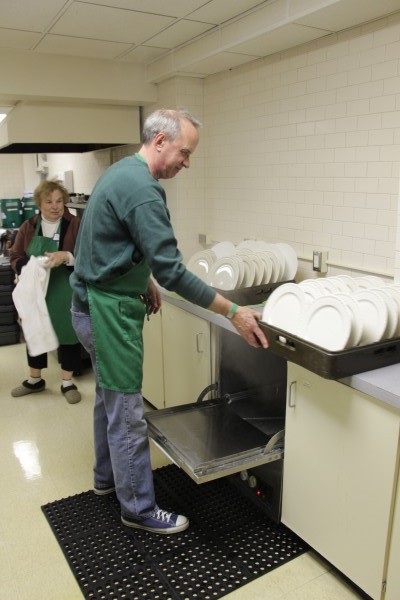 The green apron crew is just one of the initiatives of the Environmental Team. They also sort recycling, pick up trash around campus, and organize a neighborhood cleanup a few times a year. The next one will be held on Saturday, April 16, 10 a.m.-noon at St. Paul. Everyone is encouraged to come and help – snacks are provided.