Ending hunger
We are halfway there.
And by "we," the people at River Bend Foodbank mean the community. St. Paul partners with River Bend in a couple of ways, including at the Madison Marketplace food pantry. The food bank is working to increase its capacity to 22 million meals a year.
In 2016, the foodbank provided 11 million meals.
In 2015, 9.9 million.
In 2014, 7.3 million.
"We don't want to just end hunger on average," said Mike Miller, executive director of River Bend. "We want to end hunger."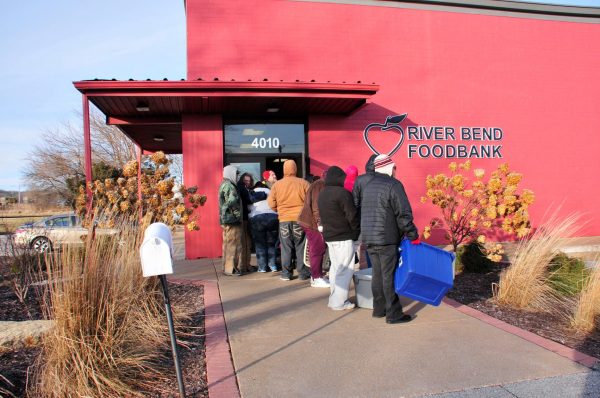 First, some background on and a few facts about River Bend.
What is a food bank?
River Bend Foodbank is a non-profit organization that collects and distributes food to hunger relief charities. Food comes from various sources in the food industry, like grocery stores and wholesalers, that have thousands of pounds of food to give away – food that would otherwise be thrown away.
Who does it serve?
River Bend is the largest hunger relief organization in eastern Iowa and western Illinois. River Bend warehouses the food, and with help from volunteers, sorts, packs, and redistributes it to the community.It works with 300 agencies, in addition to its own initiatives, such as mobile pantries, senior pantries, and backpack program.
In its 22-county service area:
More than 125,000 people are food insecure—they don't know where their next meal is coming from.
22 million meals are being missed, not by choice.
1 in 8 adults are missing meals, not by choice.
1 in 5 children (46,070) are missing meals, not by choice.
63% of these people are choosing between medical care and food.
62% of these people are choosing between housing and food.
81% of these people choose the cheapest food available regardless of its nutritional value.
40% of these people water down their food to stretch their food supply.
To achieve the growth, River Bend is working hard to increase its capacity with more efficient systems and practices in receiving, storing, and distributing the food, Mike said. It involves carefully and creatively examining a variety of operations – including inventories, computer systems, truck routes, and the like – to ensure best practices.
For example, the food bank is working to secure all food that is usable but cannot be sold or used from manufacturers, retail stores, and distribution centers. For a grocery store, this involves things like putting perishable items in a freezer before its "donate by" date (Mike uses that phrase rather than expiration date), and River Bend coming to pick it up to distribute. For non-perishable food, they ask that businesses and individuals donate the food that is past the "donate by" date, as many items can be used well past that time. They have an extensive database that tells them for exactly how long.
Another example is the modernization of the system that agencies use to order food, Mike said. The system is now real-time, which means it shows exactly what the bank has available at any given time. Agency orders (like St. Paul's) are then printed in a way that allows food bank workers to use the most efficient route through the warehouse to assemble the order and ready it for pick up.
The food bank also is tracking hunger in each of its 22 counties to determine where the most need is. The most underserved right now is Scott County, Mike said.
What can individuals do?
Commit to never throwing away food, Mike said. If no one in this region threw away food, the goal of ending hunger could immediately be met.
If your grocery store has a buy one, get one sale, donate the extra one. St. Paul, for example, has an area near the central coat rack area where food can be dropped off.
Get a group together and go sort food at the food bank.
"I have no doubt that we will meet this goal," Mike said. "I was drawn to this community because it is a realistic goal to end hunger here. This community is completely capable of that."