Expressions in quilts
When Mary Trafford was 8 years old, her mom gave her a choice: learn how to sew or take piano lessons.
"I took piano lessons for two weeks. I've been sewing ever since," Mary said.
Mary is the creative power behind two art quilts hanging in the Library Commons over the past eight months. She created a jazz quilt for Jazz Sunday in July. In December, a quilt with Mary, Joseph, and Jesus went up in time for Christmas.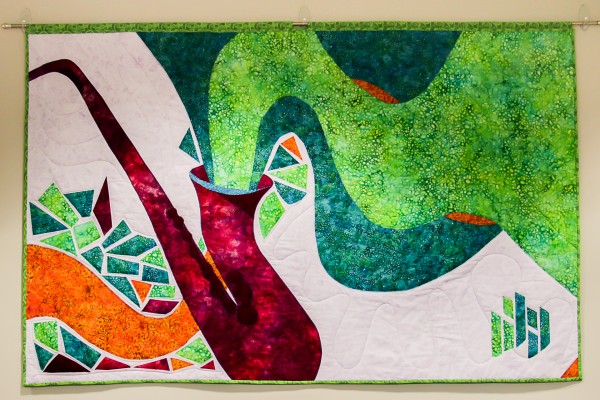 Art quilting uses both modern and traditional quilting techniques to create art objects. Practitioners of quilt art create it based on their experiences, imagery, and ideas. They are generally either wall hung or mounted as sculpture.
For Mary, the creation of the quilts is a story years in the making.
Once Mary learned to sew as a child, she often made her own clothes in high school and college. After college, Mary's career took shape, and creating fell a bit to the wayside.
With her retirement from John Deere as an accountant, however, the desire to make beautiful things is coming to the forefront again. "This is my opportunity to pick up where I left off," she said.
She's taken painting classes, here in the Quad Cities and elsewhere. She's getting a feel for using watercolor, pastels, fabrics.
Meanwhile, Mary volunteered to be a part of a committee for a special Saturday night concert of ChurchJazz, the beloved ensemble that travels to the Quad Cities from Chicago each year to play at worship at the end of July.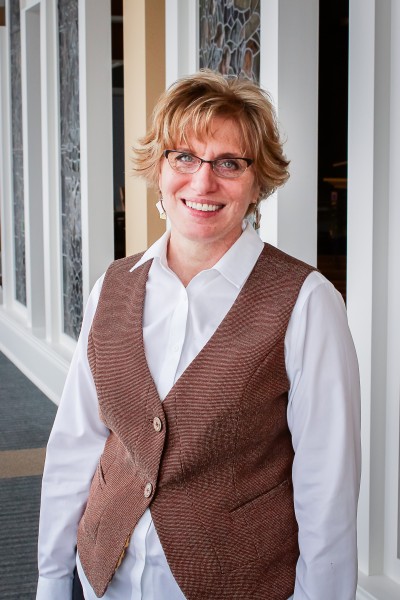 She noticed the wall in the Library Commons (where the concert was held) was a bit bare. "I can make a real quick banner for the concert," she thought to herself.
So Mary started out with a pencil drawing. She wasn't quite sure about the first, so she tried a different one – a saxophone. That was it, she knew. Up next, she did a little coloring, then drew it out on a large piece of muslin.
Choosing the fabrics came next, then the piecing and sewing – the intricate sewing Mary uses is evident in the final piece.
The Christmas quilt came about in a similar way. Mary also recently created a portrait quilt of a friend – a quilt that she prayed through while creating. It brought the friend to tears when Mary gave it to her.
"A lot of prayer goes into these," she said. "And when I hit a wall of doubt or insecurity, I pray. Eventually an idea will come."