Favored traditions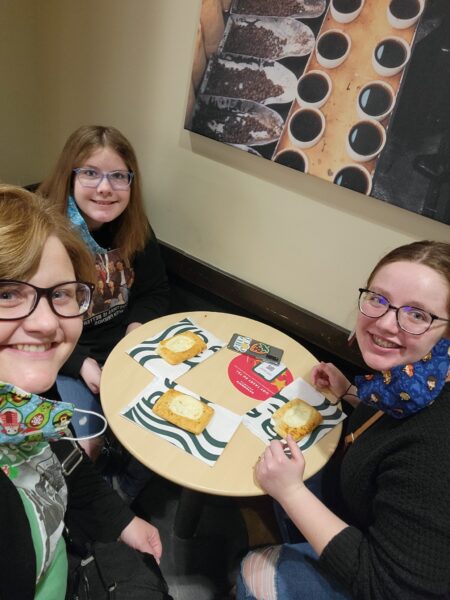 The theme of this year's Advent devotion is: Do you see what I see? An array of St. Paul voices selected a photo or photos that hold very special memories to them, then sat down and reflected on what that photo means to them. What do they see and remember that others may not when looking at this photo? Through their words and stories, hopefully, you'll see a little of what they see.
Christmas is my favorite time of year, and Christmas Eve is the day where my favorite tradition lies.
Every Christmas Eve morning, my mom, my sister, and I get up and go to Target. We always go to Starbucks first and get something warm with the addition of cheese danishes. After having our breakfast, we walk around Target to get any last-minute things we need for Christmas Day. We will get last-minute knick knacks for stockings or extra bows we might have forgotten for presents. We also love scoping out the dollar spot area!
This memory is very special to me because it is the tradition that I have remembered doing for the longest time. When I think of Christmas traditions this one is my favorite. When I look at pictures throughout the years of us partaking in this tradition, I see a mother and her daughters enjoying the holidays.
I have never had a big family to spend Christmas with and these pictures remind me to be in the moment and enjoy every minute of being with the family I have. I sense God by seeing the enjoyment in Christmas. It isn't about the gifts or the trees, it is about seeing the beauty of Christmas.
I see this beauty through my family and the little traditions we have created over the years. I hope that others take away from this that you don't need a lot of people or things around you to make the holidays special. Not having a lot of family makes me sad at times, but then I remember memories like this, and I see joy and that I have loving people that surround me.
I hope that everyone has a Christmas memory that is just as special as this one is to me. Everyone should feel loved and should enjoy being in the moment around one of the most joyous times of the year.
Maggie is a Junior at Davenport North High School. She lives in Davenport with her mom, dad, sister, and her two dogs.