Genocide, rebellion & God in Nazi Germany
Matthew Coomber first remembers learning about Nazi Germany at a young age, horrified that such a profound evil had such a great influence in the world.
As he grew older and learned that some still adhere to Nazi ideology, he was driven by a need to know why and how people could follow such a path.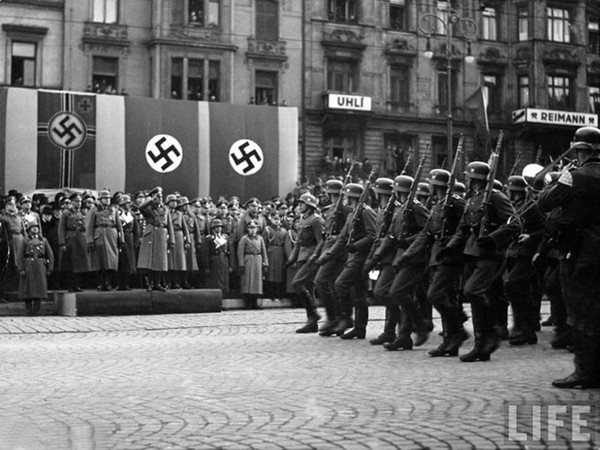 "The answers I have found are far more complicated than I had imagined," said Coomber, an assistant professor of Biblical studies at St. Ambrose University. He will present Genocide, Rebellion & God in Nazi Germany during the Sunday morning learning hour on April 26 in the Chapel.
Matthew's primary areas of teaching and research are in how biblical texts interact with the cultures and societies into which they are adopted – particularly in relation to economics, social justice movements, and the arts.
He has studied and taught in Europe and Asia, and taught a study abroad course this past winter on the topic he will present at St. Paul.
Coomber is an ordained priest in the Episcopal Church. He works to bridge his academic life with his human-rights concerns through service on the board of directors at the Center & Library for the Bible & Social Justice in New York, as well as in various other endeavors.
He earned a Ph.D. from the University of Sheffield in England, a master of divinity from Trinity College, University of Toronto, and a bachelor's degree from Concordia College in Moorhead, Minnesota.
On April 26, Matthew will examine, through the backdrop of the Nazi holocaust, the theological issues that surround both the problem of genocide and also the self-sacrificial decisions of those who choose to resist its evil. He will discuss the courageous efforts of such Nazi resisters as Sophie Scholl, Otto Weidt, and the Czech paratroopers who executed Operation Anthropoid.
One of the most important lessons that can be learned from Nazi Germany, he said, is that given the right circumstances, no individual is immune to the problem of genocide.
"Psychological testing reveals that 65-85 percent of people will play a direct role in atrocities if commanded to do so," he said. "Far fewer will stand up and confront those who are doing so. It's my belief that by wrestling with these facts and studying the Dietrich Bonhoeffers and Sophie Scholls of the world, we can be better equipped to resist."