Love you forever, Ken
To know Ken Hofer was to adore Ken Hofer.
It was a simple as that, really. His smile lit up a room. He loved to dance and give hugs. He cared deeply for family and friends. His faith in God was true.  He really loved to learn about the lives of others.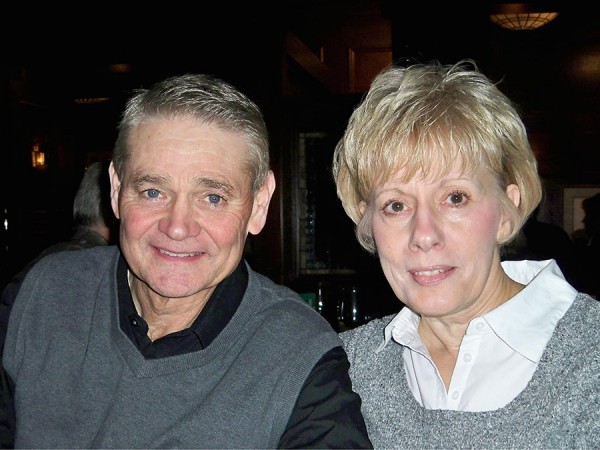 "He was remarkable," his wife, Phyllis said. "He never wanted to give up."
Ken died of cancer a year ago this week, a few weeks after Christmas and he and Phyllis' 47thanniversary.
So the couple's daughter-in-law, Angela Ehler-Hofer, knew she wanted to do something really special for Phyllis for Christmas this year. She found a jeweler and got to work.
Phyllis was traveling last year when she got a call from Angela. "Can you tell me if you have something with Ken's handwriting on it?" Angela asked.
Phyllis did. Ken always gave Phyllis the most beautiful cards for birthdays and Valentine's Day and other moments such as those. It was in her office. Angela went to go get it from Phyllis' house, made a copy, and sent it to a jeweler in Canada.
The words she sent?
"Love you forever, Ken."
"His handwriting, I've known for 45 years," Phyllis said, while holding onto the pendant that now hangs around her neck. "When I squeeze it, he's there."
It's been a year of planning a different life, Phyllis said. On their anniversary on Dec. 30, she loaded up food in her car and went with a friend to drop it off at a homeless shelter in Clinton. On the anniversary of his death, she made plans with friends.
"I think of what would make Ken proud and honor his memory," she said. "I honor him by going outside of my comfort zone and talking with others like he would."
And she remembers a life well-lived.
On their anniversary, she posted this tribute on Facebook:
"Forty eight years ago today, I married a wonderful incredible man, brought together by God in a small country church in Elvira, Iowa. The moment Ken handed me the collection plate and our eyes met, we both knew this was the person we were meant to spend the rest of our lives with. How blessed I was! I miss him every hour of the day but am warmed by the wonderful memories of this loving, faith-filled man. He was the best husband, father, and grandfather anyone ever had. My hopes lie in the fact we will be together again."