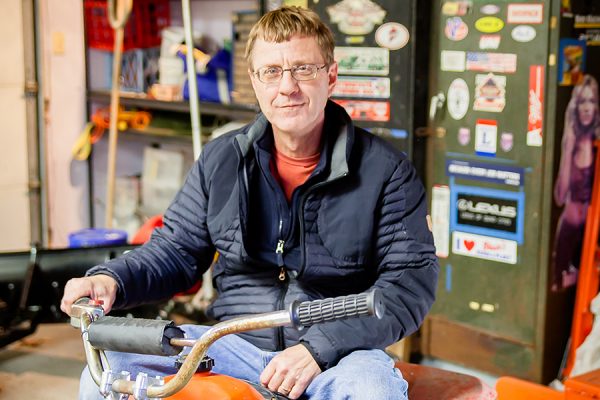 Walk in the door of Matt's garage, and the unmistakable and comforting aroma of a motor shop fills the air. Tools and parts, bumper stickers and ball caps, books and manuals fill the space. A Husky named Keisha welcomes visitors.
In the center are three-wheelers that Matt and his brother-in-law, Derek, have fixed up over the years. The orange one is named Ugly, and does really great wheelies. There's the Good and the Bad, too.
"We buy them cheap and we fix them up," he said. Sometimes they keep them. Sometimes they sell them. Sometimes they give them away.
His passion for three-wheelers started when Derek reaquired his very first three-wheeler from a buddy's barn some 20 years ago.
"Our hands have probably touched 50 or 60 three-wheelers, mini bikes, dirt bikes, and other mo- torized toys over the course of those years. We now build high performance three-wheelers for ourselves for no other reason than we can. We still do some flips for resale from time to time.
"For us it's about being together and spending quality time with each other. When we first started and our families were young, it was about giving the kids something fun to do. As we always said, they would break them and we would fix them."
The first three-wheeler was produced in 1970. It was called the US90. The last year of production for the three-wheeler was 1987. Matt's favorite brand is Honda.
Matt is part of a community of three-wheeler enthusiasts from throughout the country. They share expertise, swap parts, and talk about how to refurbish machines that are all now officially antiques.
"I can pick up the phone right now and call someone on the West Coast and buy a rare aftermar- ket part, or call the East Coast and talk to a guy about some performance issues we may be having," Matt said. "To be part of a group of folks that have this same passion is great."
One of Matt's favorite stories is from when a member at St. Paul, Leonard Hamann, told him that he had an old three-wheeler sitting in the corner of his barn. It had been there for at least 25 years. "Any- time anyone says three-wheeler, we go," Matt said.
The machine had three flat tires. It was not in good shape. Leonard called it "pretty ugly." Matt's re- sponse? "Not to us, Leonard, not to us."
Leonard insisted that they take it. It's now Matt's personal machine. He calls it Rocket.
Matt's kids grew up riding three-wheelers around their place, and now his grandkids ride too – Matt calls it outdoorsy, good clean fun. He and Derek ride, too, but "we're 55 years old. For us to ride, 30 minutes is plenty."
Fun Facts about Matt
▶ No condiments allowed: Matt does not like any kind of condiment. Ketchup, mayonnaise, mustard, salad dressing? No way. Not ever. Not even a little bit.
▶ The two B's: Boxing and bull riding are his favorite sports.
▶ First car: 1965 Oldsmobile Cutlass.
▶ Footwear: All boots (with the exception of one pair of tennis shoes).
▶ Always rooting for the underdog:Matt likes to cheer on those who have a difficult time. In that spirit, Britney Spears is his favorite underdog.
▶ What would Matt really love to be: A children's book author.
▶ Longest employee: Matt has worked at St. Paul longer than anyone else on staff – for 28 years.