On the radio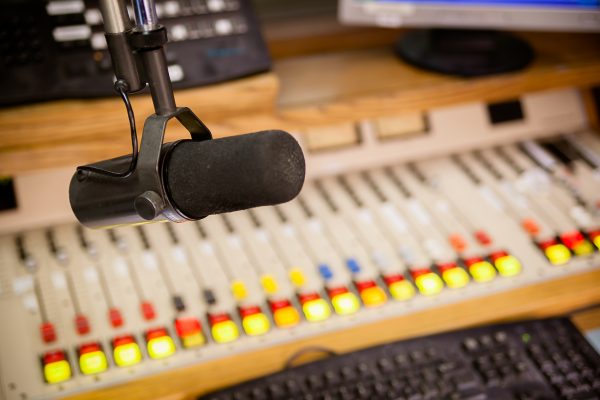 Editor's note: Catch the weekly St. Paul broadcast at 8:30 a.m. every Sunday at WOC1420 or online at iheartmedia.com. St. Paul's radio ministry is funded through special gifts and money designated for the Memorial Gifts Fund.
Every Sunday morning, with the push of a button on the soundboard at the back of the Sanctuary, the process for producing St. Paul's weekly radio broadcast begins.
An entire worship service is recorded each week. Then, one of a rotating team of three of volunteers takes that file and works a little editing magic from their homes. Jerry Nelson, Don Schmidt, and Gerek Fritz edit out portions of the worship that don't translate well to radio, such as the children's message. Prayers that mention the specific names of people who are hospitalized are taken out too. An important number to remember: 29. The radio show is 29 minutes each week. And the show's been going on about 29 years, give or take, as far as those involved can remember.
"It's been a long time," said Jerry Nelson, who's been with the ministry for most all of those years. "When I first started, we used cassette tapes. We had to do all of the abridging of the service from one tape onto another."
Jerry just returned from a few years away from the team. He decided to come back after his beloved wife, Renee, died. "I'm back on the radio again," he said. "It's an important part of getting the gospel out."
For many years, the editing took place in a unique little space accessible by a spiral staircase near the altar in the original Sanctuary. People like Jerry, Jack Korn, Denny Moeller, and Byron Zesiger circled up that staircase and spent a couple of hours editing the tapes. With the 2007 addition of the new Sanctuary and renovation of the original Sanctuary, the production went digital. The radio recording space is now mostly empty, accessible by the same spiral staircase in what is now the church's print room.
Today Jerry, Don, and Gerek (all the way from the great state of Texas), edit and send the program digitally to WOC. While it does take time, it's nowhere near the amount of time needed in cassette tape days.
At WOC, Dan Kennedy is the staff member who loads up the show each week. The file very rarely requires any editing, and the process takes mere minutes to complete. The St. Paul broadcast is part of a morning stretch of faith-related programming.
The WOC studio is in a building on East Kimberly Road in Davenport, where several radio stations broadcast. A series of studios inside the building is affectionately referred to as "radio row." The stations – as diverse of listening styles from country western to talk radio to the latest pop music – are all owned by iHeart Media.
On a recent tour, radio staff members showed how the equipment of today (all digital) emerged from the equipment of yesterday (including a cabinet of commercials on reels). Don has been part of the radio team for about a decade.
"I felt I just had just enough tech savvy to do it," he said with a smile in his voice. "I feel that it's something that is very much appreciated by people who can't make it to church."
Indeed, listeners report many different reasons for tuning in. They include people who can't get to church for health or mobility reasons, people who are away on travel, or people who are simply out and about on Sunday morning.
THE STORIED HISTORY OF WOC
Radio station WOC can trace its history as far back as 1907 when the system for generating and receiving long-range radio signals captured the fancy of thousands who wanted to learn and experiment with this new technology. Included with this group of radio amateurs, or hams, was Robert Karlowa of Rock Island, Illinois. Karlowa operated the radio department of the Young and McCombs Department Store and had been experimenting with Morse code radio transmissions.
With the development of the vacuum tube, Karlowa was able to graduate from code to voice broadcasting, and he received the call sign 9-BY for his radiophone station in June 1919. He began to air news, sports scores, and phonograph music on a regular nightly schedule. A new commercial licence was issued to Karlowa on Feb. 18, 1922, with the call letters WOC.
Throughout this same period, Dr. B.J. Palmer, owner and president of Palmer School of Chiropractic, and his son David were developing their own interest in this new technology. In March 1922, Karlowa realized that he could no longer afford to operate his station. B.J. Palmer purchased the station that month, and the Palmer School of Chiropractic became the licensee of WOC.
WOC's most famous employee was hired in 1932. Fresh out of college, the Dixon, Illinois, native Ronald "Dutch" Reagan was hired as a sports and general staff announcer. Reagan made Davenport his home until April 1933.
WOC 1420 is now owned by iHeart Media. The FM station that began in October 1948 is now WLLRFM, which broadcasts country western music. It also is owned by iHeart Media and broadcasts out of the same building on Kimberly Road in Davenport. WOCTV, which first broadcast in October 1949, is now KWQC-TV6, and is owned by Gray Television.
Excerpts from Images of America: Davenport's WOC AM-FM-TV by David T. Coopman. A copy of the book is available in the St. Paul Library.