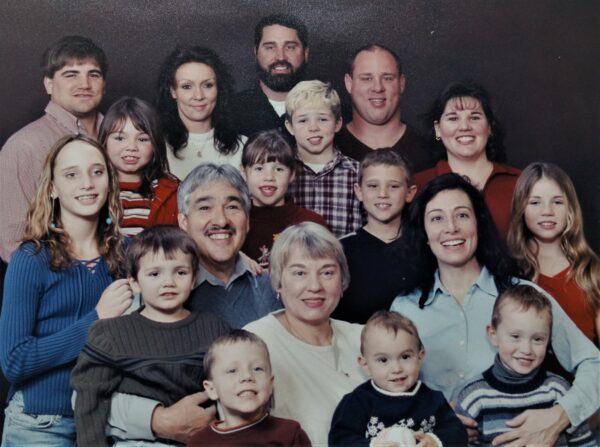 The theme of this year's Advent devotion is: Do you see what I see? An array of St. Paul voices selected a photo or photos that hold very special memories to them, then sat down and reflected on what that photo means to them. What do they see and remember that others may not when looking at this photo? Through their words and stories, hopefully, you'll see a little of what they see.
Do you see what I see? You probably don't see the time that has passed. The memories that have been made and cherished. The young people have grown, the little ones sitting on our laps are much too big now. You don't see the additions to the family. While the average person looking at this photo sees 18 smiling faces, three generations, we see the journey our beautiful family has made from Christmas 2005 to Christmas 2022.
Christmas 2005 was the last time this entire group was together. We packed everyone into our house. There were so many of us that we couldn't even eat all at once in the same place. But we loved it. This family always has a good time together.
That year, our youngest daughter Becky had scheduled this family photo at Sears. So, after Christmas dinner, we all piled into the car and trucked over to the mall.
17 years later and the people in that photo have changed a little. The night of the photo, the youngest grandchild Hank (seated on Artie's lap) wasn't sure he wanted to be posing for a photo. We didn't know if we'd ever get him to settle down.
Braydon, seated on my lap, is not so little anymore. He's currently in Poland and traveling through Europe. He's in college at the University of Iowa with a business focus and this past summer, he interned in Austin, Texas.
If we took a photo now, I'm not sure we'd all fit! The family keeps growing. We now have 6 great-grandchildren with one on the way.
We're a family that likes having fun together. Someone always comes up with something fun to do. One year it was playing Jingle Bells on kazoos. And even though we're all spread out, all over the world, we're still just as close as in this picture. These kids all keep in touch and really care about each other. Our holidays may look a little different, but we still stay connected and we get together in one way or another.
That's what I see when I look back at those people smiling for the camera 17 years ago. Artie and I are very blessed and we're proud. Very, very proud.
Phil Simms and his wife Artie live in Bettendorf. They have been members at St. Paul for 24 years. Both Phil and Artie are retired. Prior to retirement, Artie was a special education teacher and Phil was employed in the casualty insurance business.