Service, On The Water
When Ken Brooks moved to the Quad Cities with his wife, Katie, he was looking for a way to serve his community and spend time on the water.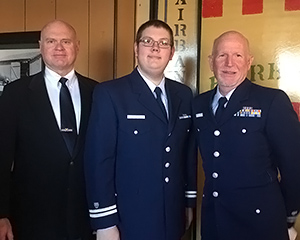 Years ago, he remembered seeing a news broadcast about the members of the U.S. Coast Guard Auxiliary – the uniformed volunteers of the U.S. Coast Guard. The Quad Cities happens to have an auxiliary. He signed on, and recently, he was named commander for the Davenport flotilla.
"It is an honor and a privilege to serve my community and my country, but the greatest satisfaction I get through my service is the opportunity to witness love," he said.
Below is a Q&A about the flotilla, and Ken's work with them.
Why do you serve?
I believe strongly that as U.S. citizens, it is our duty to serve the greater good in whatever capacity we are able. As a Christian, I know that the greatest joy in life is serving others using the skills and talents that God has given to me.
What does a Flotilla Commander do?
The flotilla is the basic operating unit in the Coast Guard Auxiliary. The flotilla commander is the unit commander. As such, I lead staff and business meetings, provide training to auxiliarists, procure and issue mission orders, settle disputes, act as a contact between the unit and other government organizations, and sit on the Division board, which in our case, covers the greater Quad City area.
How did you earn this office?
In our chain of leadership, we have elected and appointed officers. The commanding officer and the second in command for every unit at every level are elected by the members. Those elected officers then appoint staff officers to distribute the work load. Every office has a rank associated with it, so as a Flotilla Commander, I wear the insignia of a Coast Guard Lieutenant (two silver bars).
Where are you based out of, and what is the reach of your office?
Flotillas are assigned geographical names, but since we are a federal agency, we are not restricted by geographical lines. The Davenport flotilla is officially, 085-09-05. We are the fifth flotilla in the 9th Division of the 8th Western Rivers Coast Guard District.
Our area of responsibility extends from Clinton, Iowa, south to Burlington, Iowa, on the Mississippi River. Our Davenport auxiliarists also serve wherever needed across the country. I have three auxiliarists serving in Florida as we speak.
What have you done in the past with the Coast Guard?
Besides leadership opportunities, Coast Guard auxiliarists have the opportunity to qualify in different areas. This is where the real work happens. There is a significant amount of training needed for each qualification, so some auxiliarists will qualify in one area and stick with it, others will earn several qualifications. Many of these qualifications are identical to those earned by active duty Coast Guard personnel.
I am a qualified telecommunications operator. As a TCO, I operate radio communications equipment to coordinate Coast Guard surface and air operations, search and rescue, and communicate with the boating public over the Marine Band.
I am qualified as a boating safety partner visitor. In this capacity, I work with local organizations and businesses to provide federal and state boating regulations to their members and customers. I work to train their staff to answer the public's questions correctly, and I organize public education courses.
I have an administration qualification which is required to be a unit commander, and I am completing my instructor qualification which will allow me to teach public education courses. I am also completing a vessel examiner qualification. The Coast Guard provides this free service to both recreational and commercial boaters. At no charge, we will come and check vessels every year to make sure that they are in good running order. If the vessel passes inspection, the owner receives a decal which is placed on the hull of the vessel. Having this inspection done typically earns a discount on insurance. The USCG Auxiliary also offers a variety of boating courses.
How does your service feed your faith, or vice versa.
The one reoccurring reminder in my service is that God is in control. Even when tragedy strikes, more often than not, things turn out OK. God's greatest gift to us is love. Because God loves us, God gave us the capacity to love one another. It is an honor and a privilege to serve my community and my country, but the greatest satisfaction I get through my service is the opportunity to witness love. Parents and children learning how to be safe on and around the water because of their love for one another, the warm embrace of best friends after their fishing boat capsized and they made it to shore safely, the tears of joy when a husband and wife are reunited after the wife gets a phone call telling her that her husband's boat hit the lateral dam and sank. These experiences show you the value of love. Even the sad situations remind us of how valuable we are to each other and to God. Love is rarely as visible as when a life is lost, and the community pour out their souls and grieve.