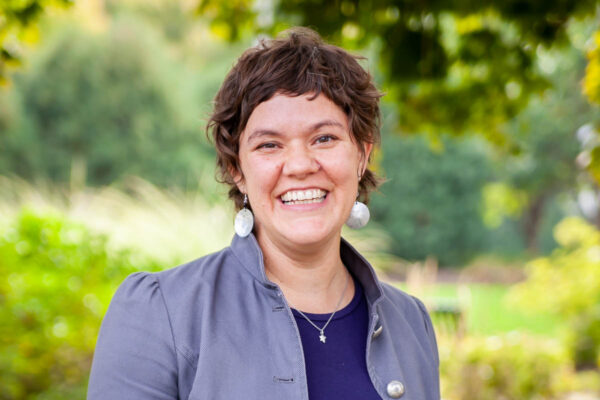 Near the end of our annual Blue Christmas service, people come forward to light little votive candles. As they come, the sparkling lights on the Christmas tree and blue lights provide the barest of illumination in the darkness of the sanctuary. At tables in the front of the church, people take a skinny taper candle and use it to light a small votive. Many light their candle in memory of someone who has died and whom they deeply grieve. Others light candles for situations that are challenging or relationships that are strained, or perhaps just for their own broken heart.  
As I sat in the pew this year, on the longest night of the year, I watched as one little flame became two, and then four, and then dozens. These little votive candles burned boldly with hope against the long night and the fears and sorrows in the world. These candles declared love that endures and hope that persists. Their dancing flames were testimony to the faith and courage of the people who lit them.   
As I watched those candles being lit – a beautiful thing started to happen. One person would light their votive with this tall skinny taper candle, deliberately and slowly, sometimes with tears in their eyes. They'd stand still, in prayer and quiet. And then they turned to the person waiting for their turn, and they'd meet the eyes of that person, and tenderly hand them the taper. They'd pass the candle on to the next person, so they could light their candles.  
It was a simple gesture – a noticing of the people around them and the sharing of the light. Not quite the passing of the Olympic torch, this small act emerged from the kindness and the shared heartbreak of two people. This gesture has stuck with me, even a few weeks later, as an example of how each of us can live our lives. This act of flame-passing is just what we, as followers of Jesus, can be about in our daily lives.   
How might we be light-bearers and hope-sharers in this coming year? In the midst of this world where there is so much struggle and suffering and pain, how might we acknowledge our own heartbreak and hope, and then see it in other people, and share some compassion, solidarity, a smile, some joy, a little light? It's easy and all too common to pass forward our resentment and impatience, judgment or cynicism or fear, but this only pulls us into deeper despair and disconnection and discouragement.  
Tomorrow is Epiphany, the end of the Christmas season. A day we remember the wise men and their gifts, and the powerful presence of Christ in this world. This is the season of light breaking into the shadows and long nights. So, let's be people who carry light, in our words and actions, sharing hope as we continue to celebrate the truth of this season: "A light shines in the darkness, and the darkness cannot overcome it" (John 1:5).