Sliding into summer
It started out as a small water slide. Nothing fancy. Just some water, some slippery stuff, and a small pool at the end.
It was a lot of fun.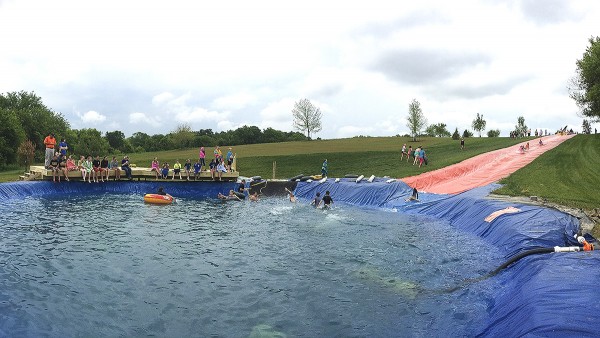 So if that was fun, wouldn't a bigger slide be even more fun? The answer? Of course! Today, Jennifer and Mike Cavins have a 15-foot wide, 260-feet long water slide with a water pumping system and 60-foot pool at the bottom.
"What's best about it? Every age group loves it. My dad has gone down it, my mom has gone down it," she said. "Little ones go down on laps. It's just fun. You don't see unhappy people there until kids are getting ready to leave."
St. Paul middle school and high school students at VBS this week got to take a spin (Mike likes to stand at the top and spin people on tubes around as they start their journey to the bottom) on the slide.
The slide has been around for about eight years or so — a constant work in progress. The slide part is the same material that soft-sided semi-trailers are made of, Jennifer said. A sand base makes it a smooth ride. This year, riders will be able to climb stairs out of the pool at the end instead of using a rope to pull themselves out.
The rules are simple: You can ride on a tube or not. When you get to the bottom, get out of the pool as fast as possible. When you get to the top, rinse off your feet and wait until Mike tells you it's time to go down again.
"Who you went down with this time will probably be different than last time," Jennifer said.
The Cavins host a few gatherings a year on the slide, for holidays, back-to-school parties and the like. They have also auctioned a day at the slide for charity.
"It's kind of like a backyard pool, but more fun," she said.