I don't know for certain, but I feel as though once a hint of spring emerges in the Quad Cities, we're all off to the races. Running, biking, swimming, or remote control boating – if it's an active endeavor, there's a race for it.
I went to my first bike race here, the Criterium in the Village of East Davenport, over Memorial Day weekend. Who knew it would be so fun to watch cyclists ride around in circles? Spectators watched the riders speed down a hill, hearing the zip of the tires as they went by, and then cheered them on, as lap after lap, they slugged their way back up the same hill they effortlessly flew down.
This past weekend, I was a part of Team Leo at the Royal Ball Run. The race raises money and awareness for people who live with Autism Spectrum Disorder. I proudly donned my Team Leo shirt (Leo is the son of Teri and Kris Voyna) and hit the streets of Milan. Running in a race like this, one that is for more than just yourself, helps make miles go by quickly and lactic acid buildup in the legs feel not so terribly.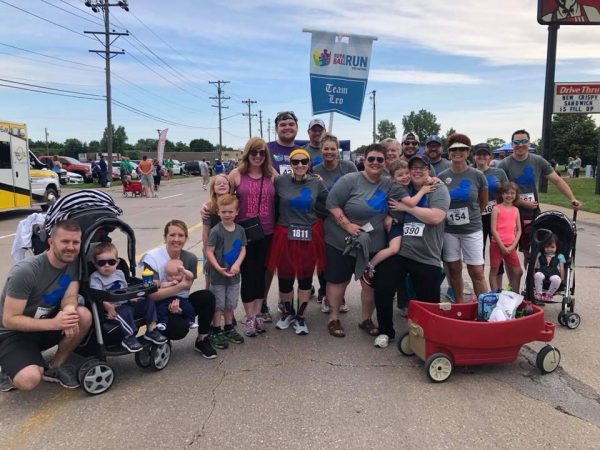 When I think of racing I can't help but think of this verse from Hebrews 12 "…since we are surrounded by so great a cloud of witnesses, let us also lay aside every weight and the sin that clings so closely, and let us run with perseverance the race that is set before us…"
Many times athletes race faster than what they train. One of the reasons I believe that happens is because of a cloud of witnesses. Those bikers at the Criterium had an extra push from the crowd to make it up the hill. The Royal Ball Run's sense of community provided the extra motivation, particularly on miles 4 and 5. Think of how fun the Bix 7 is for the runners and the spectators. Witnesses, and the energy they bring, help racers flourish.
Our races in life are all different. Your race may not be of the Saturday morning running or biking variety right now. You could be dealing with a new medical diagnosis or navigating new family relationships. Perhaps your race is being the sole caretaker of a loved one whose health continues to decline. Maybe you are wrestling with what it is like to live with the symptoms of depression and anxiety.
We are not meant to run any of these races on our own. That is why we have a cloud of witnesses in the form of Christian community – people who are cheering us as we conquer our hills. Wherever you are in your race, know that you are not alone.