Words and images, permanently inked – St. Paul people have handwriting and colorful art as reminders of the people and images important to their lives of faith.
'Where she is, God is'
Jamie Carroll loved going to her grandmother's house.
It was a tiny house, and Jamie's still not quite sure how all of her family fit inside. Her grandmother always had grape juice, frozen chocolate chips, and little boxes of cereal on hand. Jamie spent time there in the summer and over Christmas break. She remembers watching the ships come in on Lake Superior, and the woods in the back of the house.
"I always knew she was really faithful," Jamie said of her grandmother, Ann Peterson of Duluth, Minn. Ann volunteered at her church, and had many friendships there. When she decided to move into an apartment later in life, she moved to a place where a parking lot was the only thing between her home and her church.
Jamie's grandmother died peacefully on Easter Sunday 2011 at the age of 92. She had just spent the weekend surrounded by family. When Jamie left her grandmother that day, she knew she probably wouldn't see her again.
It's how Ann lived, surrounded by family, with her beloved husband, Dick, her three children, her grandchildren, and great-grandchildren. At her beloved church, Our Savior's Lutheran, she was
a member of the Naomi Circle, enjoyed her volunteer group on Tuesday mornings, and loved helping with church dinners. She particularly liked her job as a
teller at a bank.
Her eight grandkids, including Jamie, sang at her funeral. Her great-grandchild, Bailey Carroll, got her Bible. One day, inside the Bible, Bailey found this prayer in her great grandmother's handwriting:
Unity Prayer for Protection
The light of God surrounds her.
The love of God enfolds her.
The power of God protects her.
The presence of God watches over her.
Where she is God is.

The last line really struck a chord with Jamie, and her daughters Bailey and Maddy. So they decided to make a trip to a tattoo parlor and have it permanently inked on their feet. "It's my grandma and her awesome presence. That line sums her up," Jamie said. "It's perfect."
 *************************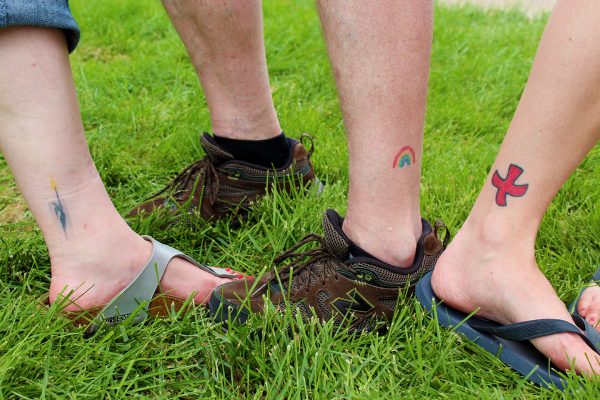 Candle woman by Sara Olson-Smith
Just after I graduated from college, I spent a year in service. I volunteered full-time at a shelter for homeless and runaway youth. I lived in community, in a house full of other women doing similar work. We shared meals, our lives, and what we had of our meager income. I learned a lot in that year about myself and the ways I wanted to live in the world with intentional simplicity, service, compassion, and justice. As the year wrapped up I was worried that I would forget all those lessons and my convictions would diminish.
Near the end of my year of service, my mom sent me a card with a simple image of a candle, where the wick of that candle was a silhouette of a woman; the candle burning brightly. I knew right then how I could be reminded of that clarity of purpose and faith. Since I had little money, my generous big brother offered to accompany me and underwrite the cost of a tattoo of that "candlewoman" on my ankle.
Many years later, every time I see my tattoo I remember that my 22-year-old self is still a part of me, full of conviction and compassion. I step forward with renewed courage to let my light so shine.
Rainbow by Jim Hoepner
When I made the decision to get a tattoo, I debated about what to get. I noticed the small rainbow sun catcher in our kitchen and that seemed to be the right fit. Rainbows are simple, eye-catching, non-threatening, and universally viewed as something positive. We have all heard the term "the pot of gold at the end of a rainbow." I think nearly everyone views a rainbow as an indication that a storm is over and there are brighter days ahead.
A rainbow is mentioned several times in the Bible. Following the great flood, Genesis 9:13 reads: "I have set a rainbow in the clouds and it will be the sign of the covenant between me and the earth." From Ezekiel 1:28: "Like the appearance of a rainbow in the clouds on a rainy day, so was the radiance around God. This was the appearance of the likeness of the glory of God."
My tattoo helps me to remember that there can be brightness following difficult times and that despite hardships, we encounter God with us always.
Taizé cross by Katy Warren
When I was in college, I'd walk across campus every Sunday night and step into the dimly lit chapel filled with candles. A group of 20 or so would gather each week at 9 p.m. for Taizé worship. Taizé is a Christian, monastic community in central France, where people from around the world gather to live, study, and worship together. The contemplative worship consists of silence and repetitive songs that are easily learned, reflecting the Christian values of kindness, simplicity, and peace.
This quiet, reflective weekly service became a steady comfort for me during some challenging years. It was in this space that I first began to think about a vocation in ministry. And my heart still jumps a bit whenever we sing these Taizé songs as a St. Paul community. So, it seemed like an obvious choice to have the Taizé cross with me wherever I go. Depending on your perspective, it's both a cross and a dove (a symbol of the Holy Spirit at work). It reminds me of God's presence and peace. And it's bright red hue represents strength, courage, and love — attributes I hope to live out each day.