'To be in a peaceful country'
Finishing up his duties for the day, Marc Ndabaramiye steps out from the kitchen and into the seating area of Oh So Sweet by Tiphanie in downtown Davenport. He is a dishwasher at the bakery. He sweeps, clears dishes, and unloads shipments as well. His easy smile lights up the room when his co-workers tease him about being famous, as he sits down for this interview.
"I like working here," Marc said, noting that he appreciates the flexibility and his co-workers the most.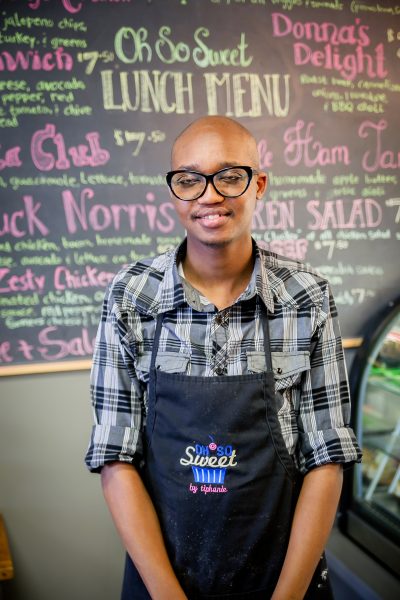 Marc has been in the United States for a year, a refugee from the Democratic Republic of the Congo. His family resettled here through World Relief (see accompanying story about St. Paul partnering with World Relief to help resettle a refugee family). They escaped their country, which is wracked by war, and fled to Burundi. After a two-year-long process of paperwork and interviews to be accepted for resettlement, they arrived at the Quad City International Airport last June.
He started working for Tiphanie Cannon, a St. Paul member, last fall.
"He has the biggest heart," she said. "There's not a mean bone in his body." Marc, 23, is a "super important part of the team," Tiphanie said.
Life in the Congo was very hard, Marc said. Getting food, clothing, water, education – the basics – was incredibly difficult. He was able to go to Rwanda to earn his high school diploma, he said. He loves to read – right now he mostly reads grammar books to fine-tune his English. Marc speaks six languages, including Swahili, French, English, and three regional dialects.
The Congo is one of three countries that people who resettle in the Quad Cities predominately come from, the others being Myanmar and Iraq. More than 2.4 million people from the Congo alone have been displaced because of killings, kidnappings, mass rape, and torture.
Marc's parents and siblings came to the United States as well. His father and siblings work or go to school, while his mother recovers from back and leg injuries. Marc has plans to attend Black Hawk College, with the hope of going into social services. But first, eye surgeries are a priority – procedures to correct vision problems he's had since childhood.
"I hope to be able to drive afterwards," he said. Now, he rides the bus a half-hour each way from his family's home in Rock Island to work in Davenport. Marc says his dreams for his life in the United States are for the surgeries that will correct his vision, and "to be in a peaceful country."
When asked for the most significant struggles for refugees coming to the United States, he said transportation and "for the first two weeks, it's really hard to eat food from America."
"It's important to have a church," he said. "It's much better for you to have a church."