2
Welcome to the Treat House
It's pretty quiet at the Treat House on this Friday afternoon. It's about 2:20 p.m., and Ann Schwickerath is sitting in the living room chatting with visitors. There's a knock on the door – the sign that the quiet is about to come to an energetic end.
"Hi! My name is Alejandro," the first kiddo in the door says as he shakes the hand of one of the visitors. He is followed by a couple of others, then a few minutes later, a couple of others, and then a few more – until about 30 kids fill the house at 5th and Warren streets in Davenport. "How was your day?" Ann asks one of the kids in the afterschool and summer program she's led with Carl Callaway, for nearly 25 years. "Stars all week!" she exclaims while checking a school planner. "Howdy, pal!" Ann says to yet another as he comes inside, sheds his coat, and sets down his backpack.
The kids counter with questions like "Can I go do homework?" and "Can I get a treat?" The organization is officially called Project Renewal, but everyone knows it as the Treat House. There's no sign outside of the two houses and park that make up the campus – because no sign is needed. Ann and Carl live in one of the houses. The free-of-charge program is centered in the other house, with a computer lab, study space, shelves of games, and a well-stocked pantry and refrigerator. With about 50 kids on the roster at any given time, the afterschool program runs from 2:30-5:30 p.m. and the summer program at Sister Concetta Park from 9 a.m.-3 p.m.
"We're a family here," says Ann. "We watch out for each other. We help each other out."
The St. Paul Mission Board recently approved $2,000 in support for Project Renewal.
Sister Concetta Bendicente came to Davenport from Chicago to serve from her order, the Poor Handmaids of Jesus Christ. She moved in to the neighborhood just west of downtown Davenport, near St. Mary's Church. Sister Concetta often spent time walking through the area. One day, she encountered a group of kids along Fifth Street. They were crying and scared – their grandfather was having a seizure and they thought he was dying.
Sister Concetta set her sights on a condemned house at Fifth and Warren streets. She led the effort to fix it up, and to be a positive presence in the neighborhood, caring for the elderly, homeless, and children. This was in the mid-1970s, when social service agencies were few and far between. Over time, the focus shifted to children. They turned the empty lot across the street into a park.
The name changed to Project Renewal. The once-condemned house is where Ann and Carl live. The park is Sister Concetta Park. And more recently, the organization purchased an empty house next door to expand its program.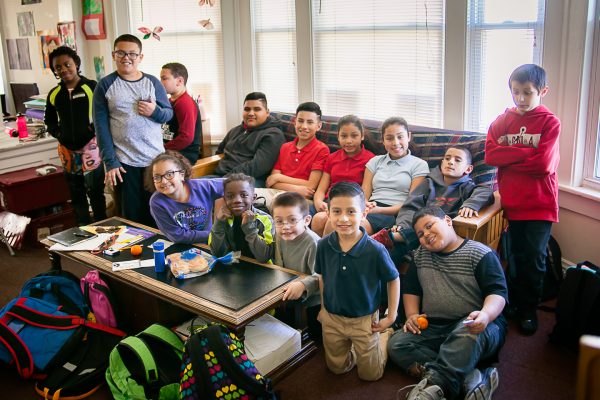 The goal? Educating, building self-esteem, and affirming each child for his or her individual worth. Time there focuses on non-violent conflict resolution skills, interpersonal relationships, constructive use of time, and appropriate social behaviors. It's why kids knock on the door and wait to hear "Come in!" before they come in. It's why they introduce themselves to visitors. It's why they ask to do homework. It's why they ask for a treat. It's why, when they talk with Ann, Carl, or any one of the volunteers, their faces light up with big smiles.
Volunteers are an important part of Project Renewal. Regulars, like Amy and Dixie, huddle in small groups in the upstairs loft to listen to kids read aloud, or help as they finish their math homework for the day.
Project Renewal also serves as a learning place for people interested in working in under-resourced communities. For example, a partnership with Notre Dame brings students to Fifth and Warren streets every year. Youthworks groups that stay in the lower level of St. Paul during the summer go to work at Project Renewal, too. This summer, kids in the Treat House summer program will take swimming lessons, be a part of a weekly Thursday night cookout, volunteer for the Bix at Six practice runs, and participate in city park & rec programs.
With the house filled with chatter, games, homework, and computer time now, Ann and Carl say goodbye to their visitors. It's a bright and sunny day, and the kids are about to head out to play at the park. "Some of our families are overcoming past or present obstacles or abuses," Ann said. "We're hoping to set them up to succeed, to make good decisions, to make good choices." But most importantly, Ann said, "We're just a neighbor."
MEET A TREAT HOUSE GRADUATE: Janee Jackson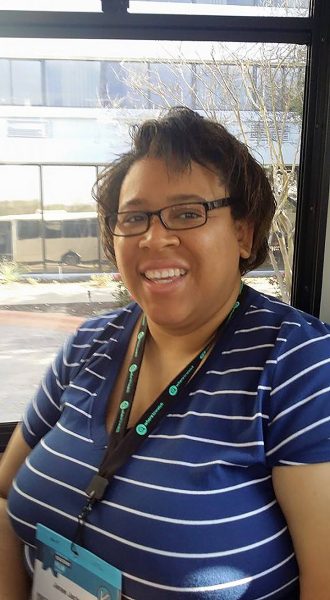 As a Treat House kid all grown up, Project Renewal has a very special place in my heart. My family and I lived on West 6th Street across from Sister Concetta Park. During the summers, my five brothers and sisters and I would play at the park and go on field trips with the summer staff. During the school year, we went to the "Treat House" to get homework help and play games.
I loved being around Director Ann Schwickerath and Assistant Director Carl Callaway because my home was not safe.
At age 10, I was sexually abused repeatedly by my mother's live-in boyfriend.
At 15, I thought I was pregnant and I turned to Ann and Carl for help. They became my saviors and notified the authorities.
Throughout the years, Ann and Carl have provided me with unconditional love and support in every part of my life. They've counseled me through the court trial for my mother's live-in boyfriend at 17, shared my successes in speech and debate competitions, and watched me graduate from high school, college, and graduate school. They've taught me to be a positive presence for others – and I now work as a children's librarian for Des Moines Public Library. My fiancé and I are getting married later this year.
For more than 40 years, Project Renewal has positively strengthened the lives of children and families. I'm so proud of their accomplishments. I'll always be proud to be a Treat House kid.