2019 guest speaker: Shon Hopwood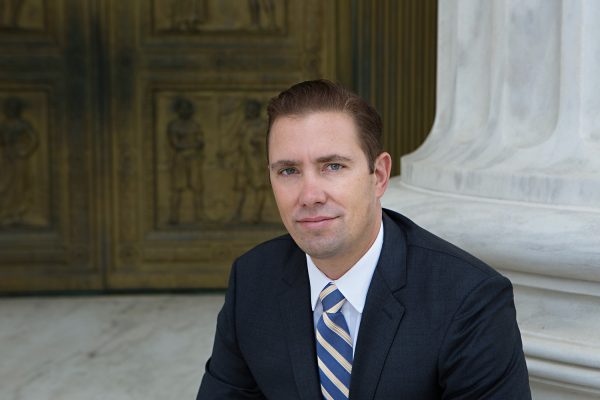 Each fall, the St. Paul congregation hosts the community-wide Guest Speaker Series. The church brings persons of national stature to the Quad Cities – sparking new ideas about what it means to live faithfully. This event reflects St. Paul's mission to serve as a learning center for our people and the entire region.
The 2019 guest speaker is Shon Hopwood. He will present at St. Paul on Sunday, Nov. 10. At 10:20 a.m., he will speak on "Why we need grace in the criminal justice system." At 4 p.m., he will present "Criminal justice reform in an age of political unrest." Both are free and open to the public. Shon Hopwood's book, Law Man: A Memoir of a Jailhouse Lawyer is available in the St. Paul Book Corner. Published in 2017, the cost is $15.
Shon Hopwood grew up in David City, Nebraska. After trouble catching on to college, he found himself in a local bar with a buddy. They talked about robbing a bank. That turned into committing five armed bank robberies before being apprehended. Sentenced to 10 years in the federal prison at Pekin, Illinois, Shon wasn't sure if he could survive a cell block.
He pumped up in the prison gym to defend himself and earned respect on the basketball court. He reconnected with the girl of his dreams from high school through letters and prison visits; and, crucially, he talked his way into a job in the prison law library. Hopwood slowly taught himself criminal law and began to help fellow inmates. He wrote one petition to the Supreme Court on a typewriter. It was chosen to be heard from over 7,000 other petitions submitted by the greater legal community that year.
The Justices voted 9-0 in favor of Hopwood's petition when the case was finally heard. What might have been considered luck by some, was dispelled when a second petition from him was selected to be heard by the Supreme Court.
"I think the law is fascinating," he told a CBS reporter. "It was like a big puzzle for me."
Shon's legal work was the start of a new life.
"Whenever anyone says 'professor,' I look around me to see if they're really talking to me," Shon writes in his book.
Shon was released from custody in April 2009. After his release, he earned his bachelor's degree, then was accepted to the University of Washington School of Law. He served as a law clerk for Judge Janice Rogers Brown of the U.S. Court of Appeals for the District of Columbia Circuit. He passed the bar. He's now an associate professor of law at Georgetown University Law Center, Washington, D.C.
Grace, and an understanding of the privilege he has in the world, is at the center of his story.
"My family, friends and colleagues have poured out an abundance of grace in my life. And their support, their ability to look past my past, and their recognition that I was deserving of a second chance – well, that is the real story of Law Man. It is also the reason why I successfully navigated re-entry into society in ways that other prisoners have not.
"For policy makers, the last sentence should both encourage and frustrate you. It should encourage because I am not an anomaly. There are many people residing in our state and federal prisons that have the capacity to change, find redemption, and emerge as law-abiding and contributing members of society. But it should also frustrate you to know that successful re-entry from prison is often due to circumstances outside a prisoner's control. And if most prisoners received just a fraction of the grace I've received, I believe most could be successful."
In addition to teaching, he works on policy change in hopes of shorter prison sentences, more vocational training, and more drug treatment and mental health care.
"Prison is not the place for personal growth," he said on 60 Minutes. "We warehouse people and then kick them out into the real world with very little support and hope that a miracle happens."