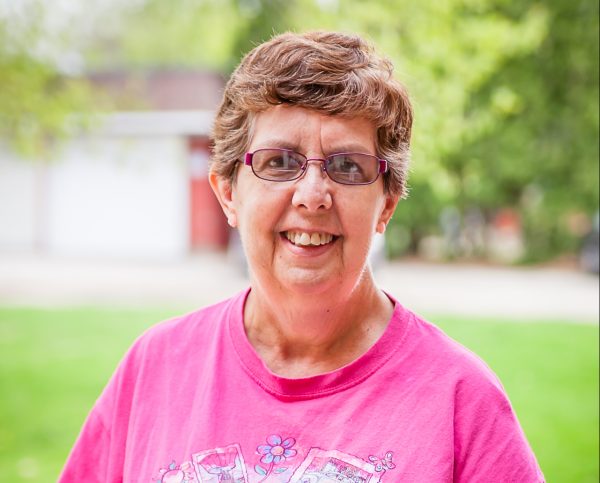 Lots of people have lots of really wonderful words to say about Kathy Ague. We'll get to those in a bit. But one of the best, most joyful, happiest sets of words goes a little something like this: She loved to sing and dance through the halls, or pretty much anywhere else she could, at Friendship Manor, a nonprofit continuing care retirement community in Rock Island.
"That's what she did, sing and dance down the halls," said Diane Bajc, director of nursing at the Rock Island care facility. "Our residents absolutely loved it."
Kathy recently retired after nearly four decades as a nursing assistant at Friendship Manor. They held a big party for the occasion, with cake and punch and lots of stories.
Four decades is a long time of serving others. But what you will hear when others talk about Kathy, is that she's built a lifetime of caring for and about others. "Kathy is one of those people, no matter what you asked her to do, she did it. She never complained. She is full of life. The residents really related to her."
Kathy became a nursing assistant after her aunt and mom encouraged her. "Kathy, you are really super good with people," they said. She worked at two other nursing homes early in her career before going to work at Friendship Manor. She took a class at Black Hawk College to become certified.
What did her work entail? Helping residents with going to appointments, dressing, bathing, and eating.
"I like helping other people," she said. As for the dancing and singing? "I liked to keep them happy."
That is indeed true. Her niece, Sarah Stevens, will attest to that. "One of my fondest memories of Kathy is from my childhood. She used totake care of my grandma who suffered some paralysis as a result of polio. Gram spent her days looking out her front door, waiting for Kathy to get home from work so the two could go for a drive. So, after having worked a full day taking care of residents at Friendship Manor, Kathy would come home, change clothes and wheel gram to the car. They would drive all over the Quad Cities, run to the mall, the grocery store, and maybe the occasional (frequent) trip to Whitey's for me and my brothers.
"I am CERTAIN Kathy would have rather been relaxing at home after a long day, but in those days, Kathy's life was a life of service to my grandma. And to her niece and nephews. And to the residents who loved the way she would dance and make them laugh. And to a God she has always followed with sincere devotion. She is today – and has always been – the most tender, kind, bright light of a human being and the world is better because she's a part of it."
Kathy worked the day shift at Friendship Manor, starting at either 6 or 7 a.m., depending on which area she was working in. She cherishes the people she met there – the 105-year-old resident who tried to teach her Spanish and loved green chili peppers, the woman she affectionately called Mama Mary, who always had a basket of candy in her room.
She got attached to the people she cared for. She estimates she met and spent time with hundreds (likely thousands) of residents. "When they passed away, I cried just like they were one of my family members," Kathy said.
Kathy never imagined she would spend 39 years at Friendship Manor. Someone once told her, "you're like one of the bricks in the building." That comparison is not far from the truth – Friendship Manor opened in 1979.
She does appreciate the opportunity to sleep in a bit now. She visits Friendship Manor every once in a while. She likes to visit her former colleagues and residents. Her former supervisor, Diane, hinted that it might be nice if Kathy came back to volunteer. "She is a very kind soul, a very humble person."