A lifetime of letters
She was born in Beirut, Lebanon. Her father is a retired Lebanese diplomat and agricultural expert, her mother is a teacher and musician from the northern suburbs of Chicago.
His family was also from the northern suburbs of Chicago, and he grew up in north-central Indiana.
Jeff Strasser and Muna Badawi first met each other when she was five and he was seven. Their moms were long-time friends who had played bridge together in college. The two families kept in touch and got together every few years. Muna remembers rowdy times in the Strassers' pool and playing with their dogs, as well as cruising for ice cream in his family's VW Beetle convertible, which Jeff still drives.
They can't quite remember exactly why they started writing each other early in their pre-teen years, but they are pretty sure it was at the prompting of Jeff's mom, perhaps for a school assignment, after Muna's family moved to Libya in 1976.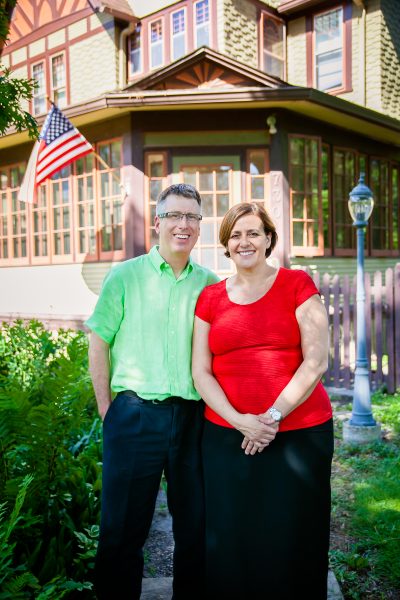 Those first letters were air-mailed trifolds. Sometimes his letters would take months to get to her. Muna lived in many places across the Middle East and Mediterranean region. Her life as a child included exotic places and diverse cultures. But it also involved hardships, such as living in the remote Saudi desert with little outside communication, as her father led an agricultural project for King Faisal. Her family fled Lebanon when the civil war broke out, although her father remained in Beirut. Several years after that, while stationed in Libya, they were evacuated on short notice as the Gaddafi regime grew ever more restrictive and hostile. Her family finally settled in Rome, for her dad's work with the U.N. Food and Agricultural Organization.
Jeff came to visit Muna once in Italy, but their paths eventually diverged and they lost touch with one another for nearly two decades. Jeff graduated from college in Pennsylvania, spent time conducting research in New Hampshire and Alaska, and landed in the Quad Cities in 1996 after completing his Ph.D. in geology. Muna went to college, dental school, did her postdoctoral residency in Virginia, and established a dental practice outside of Washington, D.C.
Then they connected again, after a reunion of Badawis and Strassers.
***
The reunion was organized by Muna's sister, at Jeff's brother's house in New Jersey. Although Jeff missed the gathering, the letters between the two started up again in 2000 after each had undergone a break-up and Jeff's father died. During summers, Jeff headed for Alaska, where he and his students conducted research on the Matanuska Glacier. Muna wrote daily and sent him care packages. When Jeff was back in Rock Island, Friday and Saturday evenings were often "date nights." They would each rent the same movie and push play at the same time so that they could watch it "together."
Following the tragedy of 9/11, Muna lost one of her friends from a massive stroke. Her death and the impact of the acts of terrorists drove home this message: "What are you waiting for?" So in October 2001, Jeff and Muna went for a hike in the Blue Ridge Mountains. They had planned a formal wedding ceremony for New Year's Eve, but then they arrived in Little Washington, Virginia. The local judge happened to be jogging by his office and asked if they needed help. Muna asked him if there was a justice of the peace in town. Their timing was perfect, and he agreed to marry them on the spot, in his running attire.
"We have a long history of making huge decisions on the spur of the moment, and it's worked out for us," Jeff said.
Muna sold her dental practice in Virginia and moved to the Quad Cities to join Jeff, a faculty member in the geology department of Augustana College. They bought a historic house in Moline. Their daughter, Genevieve, was born several weeks after Muna's arrival.
***
Muna has relatives of Sunni Muslim, Greek Orthodox, Roman Catholic, Methodist, and Presbyterian religious affiliations. Her youth group in Libya was at a Methodist church. Her high school in Italy was Catholic. Even though her father is Muslim by heritage, he was raised observing Christian traditions because of his mother, who was Greek Orthodox. Her mom is Unitarian.
"This is what I grew up with, church bells and beautiful calls to prayer," Muna said, remembering fondly the sounds of Beirut, "kind of like a multi-faith dialogue, which was mesmerizing. It's what I thought was normal."
Jeff's faith was influenced by Episcopalians and Mennonites. Although his family was Episcopalian, they started attending a Mennonite church affiliated with Goshen College when he was a young boy, and he eventually attended a Mennonite high school. Heavily influenced by the Mennonite's beliefs of pacifism and service, he also fondly recalls the music of his church, which usually involved four-part a cappella singing by the entire congregation. For a brief time after they both settled in the Quad Cities, Muna and Jeff didn't attend church regularly. They tried out several congregations, but could never quite find the right fit. But it was important that they find a faith home for their 14-year-old daughter, Eve. Then they found St. Paul.
The congregation is uplifting and the sermons are challenging, Jeff said. For Muna, the music often moves her to tears, connecting her to her past.
"The beautiful thing is that, despite our differences, when we find our community in faith or common values, we are all the same," she said, "even though we come from different parts of the world."