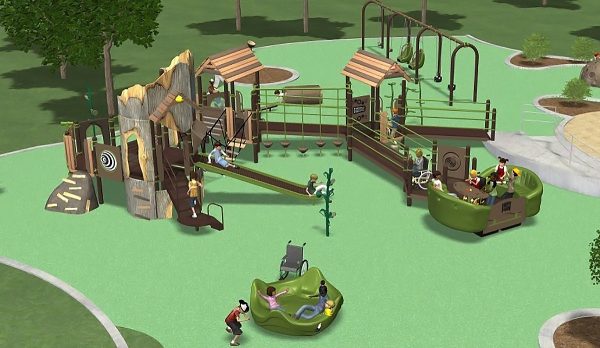 Editor's note: St. Paul recently gave $5,000 to help make Gabe's Play Village a reality. To learn more about the project, visit facebook.com/GabesDreamTeam.
Gloria Cypret was frustrated. She and her grandson could not access any of the playground equipment at parks in the city of Davenport. Gabe was born prematurely, and has physical and mental disabilities. He uses a wheelchair to get around.
She wondered if it would be possible to build such a playground in Davenport. After meeting other families with children who have disabilities, as well as military veterans with disabilities, she turned her frustration into determination and got to work. After a years-long journey that involved countless conversations and meetings with government leaders, the answer? Yes. She and a group of dedicated people are closing in on their goal to raise the $500,000 necessary to build Gabe's All-Inclusive Play Village at Vander Veer Park, across the street from St. Paul.
The hope is to start building in 2019. "World, this is Gabe," she says of her family's belief in the importance that all people should be given the opportunity to be a part of their community, including play. "We like to get him out and explore the world."
The playground, she said, will be a sanctuary. It will include a smooth surface for ease of use for people who use wheelchairs. Specialized swings will be equipped with safety harnesses. Ramps wide enough to accommodate wheelchairs will be built into the equipment. A sensory wall will engage sight, hearing, and touch. The three areas of focus: physical development, cognitive growth, and social development.
A chance conversation at a family reunion led Gloria to connect with her cousin, who works for Shane's Inspiration. The international organization was founded in 1997 by two parents whose son died due to complications associated with spinal muscular atrophy. The mission of Shane's Inspiration is to create social inclusion for children with disabilities through the creation of playgrounds and programs that unite children of all abilities.
Today, the organization has helped create 65 inclusive playgrounds throughout the world, with another 75 (including Gabe's Village) in development. The tally includes\ eight international playgrounds in Mexico, Israel, Ecuador, and Russia. Another important aspect of Shane's Inspiration is an outreach program that encourages kids and adults with disabilities to play together.
Gloria and the organization's board of directors are forming partnerships with a variety of people in the community to make that outreach happen in Davenport. She attended an outreach event in California, and knew it was exactly the type of initiative she wants to have here. With a ratio of two kids without disabilities to one kid with a disability, it showed her how such an event can remove barriers beyond the playground, too.
"All kids enjoy play," she said. "We will be bringing two worlds together."