A visit to West Acres
Welcome to West Acres, established in 2002, a collection of John Deere and other farming equipment. Yes, it's an intriguing collection of tractors, plows, bicycles, and all sorts of other things.
But it's also a collection that showcases the challenges and beauty of evolution, of success and of failure, as well as the joy of friendships formed worldwide over a common bond.
Neil West is the collector. Now a retired John Deere engineer, he worked developing better grain harvesting equipment for farmers throughout the world. He has 13 patents to his name.
"I grew up on a farm and I've always been interested in mechanical things," said Neil, who lives in Bettendorf with his wife, Perrine. He's also interested in the stories they tell.
Recently, two fellow St. Paul members, Courtney Hart and Linnea Teasdale, visited West Acres for a school project to hear some of Neil's stories. They created a website that includes an interview with Neil and features the story of John Deere, the person.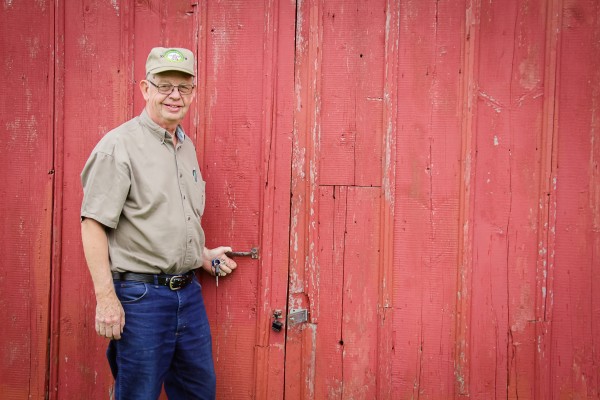 John Deere was born on February 7, 1804. When John Deere was 17 years old, he got his first job as a blacksmith. Everyone wanted his products because of the high quality. Before John Deere invented the plow, a farmer could only plow about an acre a day. In 1837, he moved to Grand Detour, Illinois, because it had rich soil for farming.
There were no blacksmiths in Grand Detour, so John Deere decided to change that by creating an invention that would change the way of farming forever. He used his knowledge of steel from polishing his mother's sewing needle to create the first plow.
Neil began collecting decades ago. He was on a business trip to Louisiana testing combines with a co-worker and friend when he saw a John Deere D, the first tractor the company built, sitting abandoned in a field. He learned that farmers with rice paddies ran the tractors day and night to operate water pumps. When the tractors stopped running, they were often left in fields.
Neil bought some of those abandoned tractors, and a hobby was born.
One of his most-beloved pieces is that ride-on plow built by John Deere. An entire shed is devoted to showing how innovation changed over time with that particular piece of equipment.
John Deere invented the steel plow which made his company skyrocket. The steel plow was created in 1837 out of an old steel saw mill blade and some wood. It was from a friend's farm, he had asked to take the blade.
The first plow was sold for about $7. The steel plow was unique from the other wooden plows made. This plow, called the "singing plow" was able to cut through the tough, sticky soil that wood plows couldn't get through. Many farmers soon wanted the steel plow so John Deere had to make more. John Deere soon started making lots of steel plows and his company went up.
Where does Neil find all of these things? Farm sales. Swap meets. A yard in Moline. Fields. Germany.
He also finds joy in giving to others. He funds scholarships for high school students in his native Ohio, has donated tractors to FFA chapters to be restored by high school students, was an advisor for FIRST robotics teams at local high schools, and coordinates youth events at local tractor shows. He's also been to all seven continents.
And, if you'd like to take a tour and hear the stories of his collection, he might just say yes.
Visit an online school project created by St. Paul 7th-graders Courtney Hart and Linnea Teasdale. Their website features interviews with St. Paul members Neil West and Hans Schnekloth.