2
In her own words: Advocating on Capitol Hill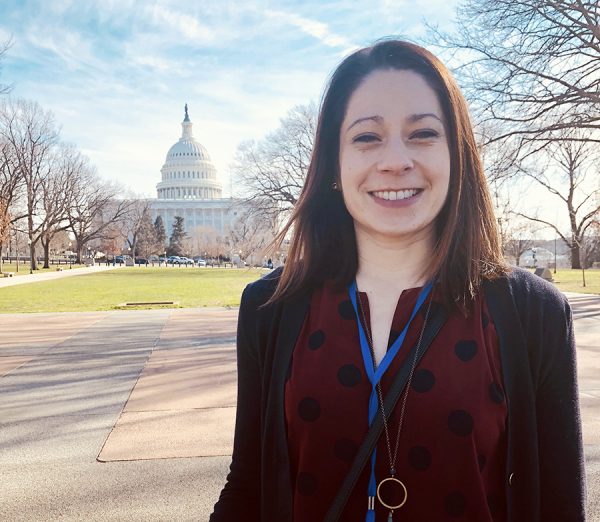 This March was my third time traveling to Capitol Hill in Washington, D.C., using my voice to advocate for the 1.25 million Americans (including myself) who live with type 1 diabetes. The advocacy efforts I support are on behalf of JDRF, which is the word's largest charitable funder of type 1 diabetes research.
After my diagnosis with type 1 diabetes in 2002, I learned about JDRF and how they are the organization working on a cure for type 1 diabetes. I participated in a few clinical trials at the University of Iowa and I learned that those life-changing trials were being funded by JDRF. In 2006 I was selected to participate in the first artificial pancreas study and wore an insulin pump along with a sensor called a continuous blood glucose monitor, or CGM. While not a cure for type 1 diabetes I knew this life changing therapy would help me be healthier until a cure was found.
This past September I went on the first FDA-approved hybrid artificial pancreas which is a pump and a CGM that automatically doses insulin based on my continuous blood sugar readings. To say this device is a lifesaver is an understatement. Without a CGM and knowing my blood sugar, I would go to bed every night and hope I would wake up the next morning. Statistics show that 1 in 20 type 1 diabetics die in their sleep because of a low blood sugar.
Living with type 1 diabetes is a constant balancing act. It is an autoimmune disease in which my pancreas stopped producing insulin, a hormone needed to get energy from food. I must regularly monitor my blood sugars, inject insulin or infuse through an insulin pump, and regulate insulin with food and exercise. It is a 24-hour-a-day job and there is no cure.
So where does advocacy come in and why is it so important? In short, both research and getting devices and therapies approved for consumers and to market are expensive and very time consuming. Through advocacy, JDRF is able to make the most impact by securing federal funding for research, working with scientists to accelerate scientific discovery, working with regulatory approval through NIH and FDA, as well as healthcare access for consumers, those with private insurance, and Medicare.
Over the past 2 years, I have been working with Congress, specially our leadership in Iowa, to educate about the importance of research and funding levels required for research to happen. Congress created a program called the Special Diabetes Program (SDP) dating back to 1997 to address the growing burden of diabetes on people living with the disease and our nation's economy. The program has helped advance type 1 diabetes research at NIH and to fund treatment, education, and prevention programs for American Indian and Alaska Native populations. Congress has renewed theses programs at $150 million per year. Asking for a renewal of federal dollars allows NIH to plan for research, and for researchers to build upon past successes and continue conducting promising trials that lead to better treatments, prevention, and eventually a cure for type 1 diabetes.
This past September, despite working with Congress, the SDP expired and the program was not included in the original continuing resolution. Without federal funding, promising research would come to a halt. It was the first time in 20 years the program had expired. After people made calls and sent emails to Congress this past fall, the Special Diabetes Program was finally included in the last continuing resolution bill at a funding level of $300 million for 2 years.
This last week I went to Washington, D.C., on behalf of JDRF and met with our leaders in Congress to thank them for the renewal, educate and show them my artificial pancreas, and let them know they are making a difference. I feel called to do this because research has changed my life and many lives of those with and affected by type 1 diabetes. Every year I also ride my bike 100 miles in one day to be a part of something bigger than my diabetes. Every day I wake up is a gift. Every day is one day closer to living life without type 1 diabetes.
Aryn Lloyd has lived with type 1 diabetes for 15 years. She is a certified health coach, mom to two girls, and wife to Ben. She volunteers as the advocacy team chair for JDRF Eastern Iowa. She loves to cycle, training for her 100-mile JDRF bike ride.